February is the month of love and 263Chat will be celebrating it with you by giving you ideas on what you could do for your loved ones but today we begin with a brief background of Valentine's Day.
Every February 14 is celebrated world over. People exchange gifts and go the extra mile to do the extraordinary for their partners. It is a day that partners appreciate each other and the love they share. But the question is, do you really know what you are celebrating, it's origins and how it came about?
Valentine's is celebrated in the name of St Valentine's. The Catholic Church recognizes at least three different saints named Valentine or Valentinus, all of whom were martyred.
www.history.com states that one legend contends that Valentine was a priest who served during the third century in Rome. When Emperor Claudius II decided that single men made better soldiers than those with wives and families, he outlawed marriage for young men.
Valentine, realizing the injustice of the decree, defied Claudius and continued to perform marriages for young lovers in secret. When Valentine's actions were discovered, Claudius ordered that he be put to death.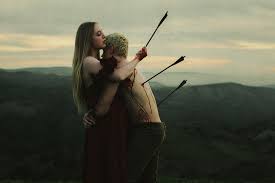 Other stories suggest that Valentine may have been killed for attempting to help Christians escape harsh Roman prisons, where they were often beaten and tortured.
According to one legend, an imprisoned Valentine actually sent the first "valentine" greeting himself after he fell in love with a young girl–possibly his jailer's daughter–who visited him during his confinement. Before his death, it is alleged that he wrote her a letter signed "From your Valentine," an expression that is still in use today.

While some believe that Valentine's Day is celebrated in the middle of February to commemorate the anniversary of Valentine's death or burial–which probably occurred around A.D. 270–others claim that the Christian church may have decided to place St. Valentine's feast day in the middle of February in an effort to "Christianize" the pagan celebration of Lupercalia.
Celebrated at the ides of February, or February 15, Lupercalia was a fertility festival dedicated to Faunus, the Roman god of agriculture, as well as to the Roman founders Romulus and Remus.
It wasn't until more than 200 years later that 14 February was proclaimed St Valentine's Day. By this time Rome had become Christian and the Catholic Church was determined to stamp out any remaining paganism. A pagan fertility ritual was held in February each year and the Pope abolished this festival and proclaimed 14 February Saint Valentine's Day, thus establishing this feast day on the Catholic Calendar of Saints.
The poet Chaucer in the Middle Ages was the first to link St Valentine with romantic love. This was the beginning of the tradition of courtly love, a ritual of expressing love and admiration, usually in secret.
This custom spread throughout Europe and stories grew about a High Court of Love where female judges would rule on issues related to love on 14 February each year. Historians believe that these meetings were in fact gatherings where people read love poetry and played games of flirtation.
The practice of sending love messages developed into people sending special cards expressing their affection. These cards were beautiful creations handmade by the sender and individually designed to show how much they loved the recipient. Cards would usually contain sentimental verse, proclaiming the beauty of the receiver and how much they were loved.
Saint Valentine's Day Cards were decorated with pictures of cupid, hearts and flowers and trimmed with lace and ribbon. These images are still used today to symbolise love and are recognised all over the world.
Valentine's Day is most commonly associated with romantic love, with millions of Valentine's Day cards being exchanged each year. Gifts of flowers or a single red rose are sent with romantic messages to loved ones and couples spend special time together.