Vendors have vowed to stay put at their current vending points despite the seven-day ultimatum that has been issued by government for all vendors to move to designated sites.
Government announced on the first day of this month that illegal vendors should move away from illegal points to council designated sites within one week or face action from the law enforcement agents who include council police, ZRP and the army.
However, this has been condemned by many. Speaking in a telephone interview with 263chat, Samuel Wadzai the director of National Vendors Union of Zimbabwe (NAVUZ) said that his organisation will not urge its members to move away from the streets but will instead advocate for vendors to operate from their current spaces.
"We are going to insist than never before that vendors should operate from their current spaces. There is no commitment from government to ensure that they provide vendors with vending spaces, so we are not going anywhere," said Wadzai.
Wadzai who claimed that there are 100, 000 vendors in Harare's CBD said that his organisation was shocked with the assault on the vending enterprise and urged government to re-examine the policy. Other vendors on the streets have also expressed their dismay at the new policy.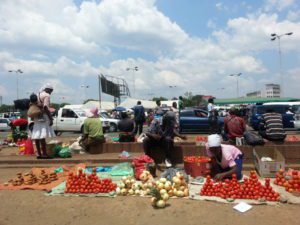 "As vendors, we are united against this seven day ultimatum. There are no jobs and that is why we are vending. I do not think you would find so many people in the streets if there were jobs so they should consider the issue of jobs first before making such decisions," said one vendor operating near townhouse who refused to be named for fear of reprisals.
Residents' organisations in Harare have also raised concerns on the seven day ultimatum that was handed down to vendors. Harare Residents Trust (HRT) said that it was shocked at the insensitivity being displayed upon the livelihoods of vendors.
"The seven day ultimatum pronounced for vendors to vacate the CBD was clearly misplaced, insensitive and hypocritical. What is needed are critical thinkers who can urgently resolve our economic challenges and create space for these progressive Zimbabweans eking out a living through vending," said HRT in a statement.
On the other hand, City of Harare has introduced four new trading sites that are set to accommodate vendors who are being moved from the illegal vending points in the CBD. These new vending spaces are namely the Holding Bay at the corner of Coventry Road and Rotten Row, the open space at the corner of Cripps Road and Seke Road, Luna Park ground at the City Sports Centre and lastly Tsiga Open Space in Mbare.
The Holding Bay will accommodate vendors who are currently trading along Julius Nyerere, at the Parkade at corner Julius Nyerere and Jason Moyo, Cleveland house and Foot Bridge opposite Town House. Vendors at the Mosque at the corner of Julius Nyerere Way and Kenneth Kaunda, Angwa Street, Harare Street and Rezende Street will be moved to the open space at the corner of Seke Road and Cripps.
Vendors operating at Inez Terez, Robert Mugabe Road, First Street, George Silundika, Fourth Street Island and Leopold Takawira (opposite Bata) will be moved to the Luna Park grounds while those along Nelson Mandela and Magaba Flyover to Shawasha Grounds will be accommodated at Tsiga Market in Mbare.