Zimbabwe's most anticipated music and food festival, Unplugged kicks off 2018 with a massive gig set for Saturday the 24th of February 2018 at Wingate Golf Club in Harare.
Speaking to 263Chat, Unplugged Communication Strategist, Chiedza Danha said 2017 was a massive year for them as they hosted successful shows with the support of Coca-Cola as their main sponsor.
"Last year was a massive year for Unplugged. First we got Coca Cola on board as chief sponsor and that's done a lot for our brand.
"We have had a combination of many successful shows also a year of great learning. We successfully brought in our first non Zimbabwean act and also did our first show in Bulawayo. It was a year we took a few risks and many of which paid off, above all we welcomed back old acts and were part of the discovery of some incredible talent too." said Danha.
She said this year, Unplugged will be focus on strategic growth of the brand, enhancing the event experience, developing the market through partnerships.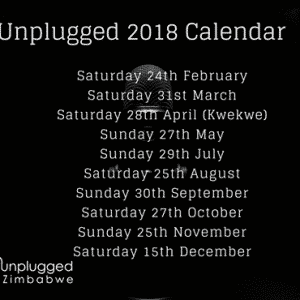 "This year we are focused on the strategic growth of the organization. For one we want to deepen our involvement in capacity building through our Artist Development programme which rolls from September. We are also focusing on enhancing the event experience, elevating the look and feel and developing the Unplugged market place so that there's more to do when you get there.
"We are actually hiring someone specifically to fulfill that function, we also have a few big surprises lined up which we'll share with 263 when the time nears. The growth we seek isn't necessarily in numbers, its in partnerships primarily.
"The black card is our new membership programme. It allows Unplugged loyalty to benefit from a 20% annual discount to events as well as 50% off tickets when international acts come in. We have also partnered with the likes of Mugg&Bean, News Cafe, Ocean Basket, Glow Spa and many others to offer 15% off their good and services for Unplugged card holders." added Danha.
The first 2018 Unplugged will be held on Saturday 24 February with artists such as Bryan K, Plaxedes Wenyika, Sylent Nqo & Pro Beatz, Jay Afrik set to perform at the colorful event.
Reverb7, Ray Dizz and TK Beatz, Chucknosis will be the Disc Jockeys (DJs).
According to Danha, Unplugged will also open marketing opportunities to allow brands to connect directly with consumers.