Unilever Zimbabwe has set aside a US$500 000 investment fund meant for the refurbishment of a high tech Royco plant that will support the transformation and growth of the Zimbabwean economy.
Speaking during the commissioning of the recently upgraded plant, Minister of  Industry, Commerce, and Enterprise Development Mike Bimha said his Ministry has put in place a number of measures aimed at giving a reprieve to the local industry.
"My Ministry has put in place a cocktail of measures aimed at giving a reprieve to the local industry.

"I, therefore, call upon Unilever to take advantage of measures such as the Import Management Programme which entails that importation of any product should only be permitted so as to cover the supply gap.
"This program was made famous when Statutory Instrument.64 of 2016 was gazetted which happens to cover your product lines such as Vaseline Petroleum Jelly, OMO washing powder, Sunlight Liquid and dishwasher.
"Now all these products are now covered under SI122 of 2017, which is the consolidated framework that embodied all products covered under the programme," he said.
According to the group president Bruno Witvoet, Unilever has a long-term business plan whereby they already invested US$8 million over the past few years and are ready to begin rebuilding the Zimbabwean economy.
"This is about far more than adding a state of the art foods factory to our operations, it is about providing affordable and tasty food to millions of Zimbabweans and building a bright future for Zimbabwe.
"Unilever stayed serving our consumers and supporting jobs across the country in marketing, distributing and trading throughout recent economic hardship.
"We have a long-term business and already invested $8 million over recent years so we are ready to begin rebuilding the economy and improving the lives of Zimbabweans," he said.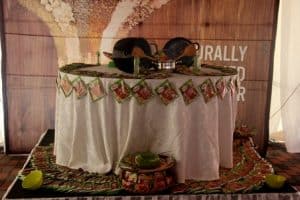 He added that are planning on producing Royco locally so as to replace Kenyan imports.
"This new Royo plant is a great investment as it doubles our capacity to produce this wonderful brand with its natural flavours and great taste.
"Our consumers will be secure knowing where and how it was made and will produce affordable packs locally replacing Kenyan imports so both reducing Fores and better serving our consumer," he said.
Royco Usavi Mix has been in Zimbabwe for over 10 years and is currently found in about 1.5 million households in the country.
The additional manufacturing capacity added will double the capacity to over 30 tonnes per day producing 200 sachets per minute.