Green Concert 2015 will feature three international music acts namely Ringo Madlingozi (South Africa), Winnie Khumalo (South Africa) and Nigerian artist Kunle Ayo.
The event promises to be a much bigger affair considering the over subscription that was witnessed at the 2014 event that was headlined by South African based songstress Zahara of the Loliwe fame and with three international acts as well as an exciting local line-up, the show promises fireworks.
The Green Concert is the brainchild of Green Ambassador and musician Dereck Mpofu who is also the host artist for the musical showcase that is held annually to raise awareness on environmental issues through music. This year will be the third year running for the event since its debut in 2013and will be held at 7Arts Theatre in Avondale on 15 May 2015.
While speaking at a press conference that was held in Harare on 10 April 2015 to unveil artists who will perform at the Green Concert, Mpofu said that this year's showcase will be focused on Harare's vision to attain world class status by 2025 and will run under the theme "The dream is possible, it begins with you, it begins with me."
"The Green Concert is an event which seeks to engage the key decision makers in terms of environmental issues. If we are to achieve world class city status we need to involve government, local authorities and corporates. The other key stakeholders in this initiative are the ordinary citizens," said Mpofu.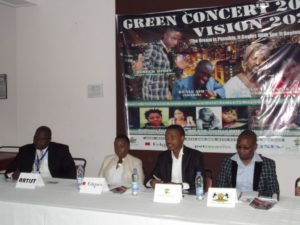 Mpofu revealed that the Green Concert will not use posters for advertising as they were trying to set an example of a friendly way to advertise an event. The use of posters and flyers is one of the most common advertising methods for public functions but the Green Ambassador said that the practice contributes to littering.
"The Green Concert is a green friendly environment so you will never see posters advertising the event; instead we will mainly use electronic media as well as social media platforms and emails.  We are trying to engage churches, musicians and politicians who are the greatest perpetrators of littering. There is a lot of defacing of very important buildings by the use of posters," explained Mpofu.
The line-up of local artists that will perform at the event comprises of Mpofu who is the host artist, Alexio Kawara, Kudzai Sevenzo, Adonia, Ras Caleb, Esther, Rute Mbangwa, Pax Gomo and many other artists who will be announced in due course.