MUTARE: Tendai (53) [not real name] is part of hundreds of disgruntled employees of the ailing National Railways of Zimbabwe (NRZ) who are staging a week-long demonstration.
They are calling for the sacking of Acting Manager Mr. Lewis Mukwada after going for more than 10 months without their salaries.
Tendai has been working for the national carrier for two decades and he has been 'through it all' with the national carrier. However his patience, like hundreds others gathered to demonstrate against an insensitive management, has run out.
"I have been working for this organisation since I was thirty one and I have been through it all with this company. I know the ins and outs of NRZ. I have worked very hard for this company but now vakutirasa vachidya vega (they are abandoning us for their selfish gains) and we are saying no to that," he said.
Tendai, now a divorcee, has also been living with HIV for the past four years, a condition which is worsening because of the lack of a good diet and access to medicinal supplements.
He told 263Chat that his life was is now a living hell as he cannot afford the good diet which the Anti Retroviral Treatment (ART) requires him to adhere.
"About four years ago ndakabatwa chirwere mukadzi wangu akabva andisiya (I tested positive and my wife left me) and now ndiri pa (I am on) ART but as things stand my health is under threat ngekuti (because) I can't afford diet inodiwa yacho nechirongwa (prescribed under ART)," he said.
Tendai has been struggling to go to work for the past two months but on Monday he braved his ill health to join demonstrators who gathered at the Mutare workshop where they downed tools for the second time this year calling for Mukwada's head.
"I have not been feeling well for the past two months but on Monday ndakauya kuzojoina amweni angu mu union (I came to join others in the union) because I also want money to take care of myself," he said.
He is an affiliate to a workers union which is leading these demonstrations against management.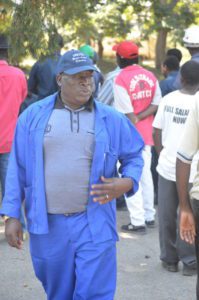 263Chat caught up with President of Railways Artisan Union, Shadreck Mutakura who says workers' remuneration has been a challenge since inception of the multicurrency regime.
Workers have not received salaries since last year in May, to further exacabate this management has also failed to honor its several promises to address this issue claims Mutakura.
Mutakura said last month workers were expecting to get payment for last year May salaries but management did not honour its promises citing viability challenges. He also said management has failed to address this issue by making unilateral decisions.
"This issue of nonpayment of salaries has pushed us to demonstrate because we have not received salaries since last year in May.
"Management has failed to come up with a solution to this problem because they are unilaterally making decision. We don't even know maybe they are paying themselves but all grades as far as we are concerned have not been receiving salaries its ten months now
"Actually the problem started when the country adopted foreign currency, the organisation is still struggling to adopt now the workers have gone for more10 months without their salaries," he said.
Mutakura said workers were demonstrating over the incumbency of Mukwada who has demonstrated lack of initiative to redress the situation.
"But in this case, this demonstration is about querying why the management was still keeping Acting General Manager Lewis Mukwada who even during the interviews done by the board to elect a new general manager was given a vote of no confidence in turning around the organisation
"Board Chair Alford Mabhena said Mukwada was not qualified for this position so we wonder why he is still leading the organisation," said Mutakura.
Mukwada assumed the post of General Manager in acting capacity two years ago following the passing on of former NRZ boss Retired Major General Karakadzai.
Mutakura said his union represented the interests of clerks, nurses, artisans, general hands and engine men who were fed up with management lies.
He said engagements with management were only talk-shops as working conditions are getting worse despite workers acceding to 20% pay cuts, with management failing to meet its promises.
"Because of the economic situation, the workers agreed to have their salaries slashed in exchange they would be guaranteed 80% of their hard earned wages every month end but those wages have not been paid up for the last 10 months hence the demonstrations," said a concerned Mutakura.
Tendai is not giving up hope on his dues, he wants a brighter future for his 16 year old that was forced to drop out of school, so he is soldering on hoping for the better.
"Ahh pamari hatibvi ba tonoida mari yedu tichaimirira kusvika yabuda (when it comes to money we are not going anywhere we are going to wait for as long as it takes to get our money). I have my boy ane (who is) 16 years haasi kuenda kuchikoro asi (who is not going to school but) I also want a bright future for him," said Tendai.