Government has set timelines for the partial privatisation of mobile network operator Telecel as part of the broader programme to get rid of under-performing parastatals.
The decision to list Telecel up for partial privatization comes at a time when the operator has been struggling to match competition from Econet Wireless and NetOne due to lack of capital injections after the dramatic exit of previous major shareholder, Vimpelcom Group of Russia.
Making an official announcement, the Ministry of Information, Publicity and Broadcasting said Telecel together with other parastatals are up for partial privatization within the next 12 to 24 months.
"Government has set time-frames for the partial privatization of some of the State-owned enterprises (SOEs). The timeframes range from 12 to 24 months. Government is fully committed to reconfiguring the SOEs to enable them to fully contribute towards economic development" read the statement from the Ministry's official Twitter Account.
Efforts to seek official comment the Minister of Information Communication Technology and Courier Services, Hon. Kazembe Kazembe and his Permanent Secretary, Dr. Engineer Samuel Kundishora were fruitless as their mobile phones went unanswered.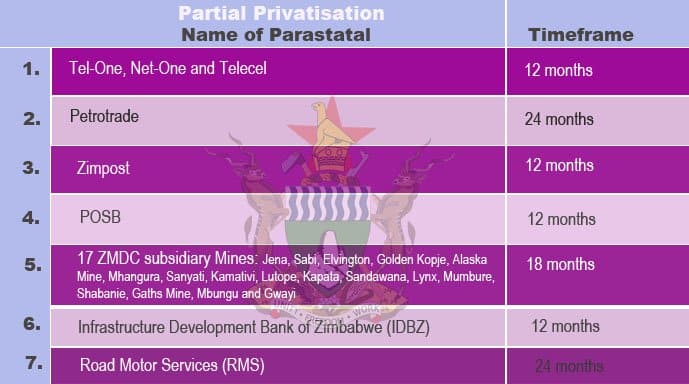 Government's acquisition of Telecel in late 2016 has left the mobile network operator incapacitated, at a time when the operator was looking for a massive investment to channel towards its network infrastructure upgrade to catchup with competition.
Sadly, after the government takeover, no capital has been injected to ensure the operator's survival leading to Telecel loosing 13% of its market share to fellow competitors Econet and NetOne.
Telecel was once considered a force to reckon in the mobile telecommunications sector between 2010 and 2014, with the operator commanding second position after Econet Wireless in terms of subscribers. Boardroom fights and government interference crippled the operator's growth trajectory which saw them being overtaken by a newly energized NetOne.
Minister of Finance and Economic Development, Professor Mthuli Ncube earlier said lnitial Public Offering (IPO) or Partial Privatization of selected state owned entities were the only viable solutions to revive their operations and improve their competitiveness so that they start contributing to the national Gross Domestic Product (GDP).