MUTARE– Greedy former inhabitants of single quarters, built in the colonial era, are subletting the derelict houses for profit amid calls for city fathers to transfer of ownership to long-term residents.
Residents inhabiting NHB subdivided single quarters in Sakubva said Mutare City Council has virtually neglected these houses, while former tenants are putting these houses for rent in violation of council by laws.
In an exclusive interview a resident of NHB section Gin Chibhonga, who has been residing at her house in the contentious suburb since 1972, said city council is not concerned about their dire situation.
She revealed that tenants were failing to respect privacy because of lack of space resulting in endless altercations with police peace orders being the order of the day.
"Nyaya yekupinza vanhu mudzimba yanetsa kwedu kumaNHB asi patakapinda taka signer mastamba ekuti dzimba idzi haasi ma ownership anokwaniswa ku renteswaba asi iyezvino kune varikuita business nemba idzodzo (The issue of subletting is a problem in NHB, but when we got into the houses we signed agreements that these houses were not ownership and could therefore not but rented out. However there are others who are doing business renting these houses)," she said
Chibhonga said some houses were almost falling down while others had been destroyed by Jacaranda trees, which fall routinely on top of houses.
She said council was failing to attend to their concerns on time whenever they reported issues, only to be ready to pounce on residents who resort to taking matters into their own hands.
"They don't care, havauyi kuzogadzira (they don't come to repair) kana tareporter kuti pane mujacaranda wadonha asi kana tikatema vanobva vauya kuzotisunga (if we report that a jacaranda tree has fallen on a house they don't come but whenever we cut the trees ourselves they rush to arrest us," Chibhonga said.
"Dai kanzuru yatarisawo vanhu vakura vagarisa mudzimba idzodzi vachibhadhara every month zvakaita seni they can check I don't have any month yandakapotsa. Since 1972 mari yandabhadhara yakutokwana kutenga imba dzacho, (We wish that council would consider elderly people who have been paying their rates religiously like me, I don't have any month which I missed paying. Since 1973 the money which I have paid is even now enough to buy the houses)", she said
Turning to the issue of scrapped rates, Chibhonga who claims to have never missed an installment said council should hand over ownership of the houses to long-term tenants.
She said this situation was also worsened by residents themselves who do not pay their monthly rates to council.
"Zvinotirwadza kubhadhara kwangu kwerent kunyanya nyanya everyday ndichibhadhara vamwe vachimirira kuti mari idzi dzichabviswa "Its painful for me to be paying rates, every month I have been paying  but others are just waiting for their dues to be just scrapped off "
"Ngatibhadhare ma rent kuti City Council ikwanise kugadzira dzimba dzedu (Lets pay rents so that City Council can repair our houses)," she said.
Housing remains an outstanding issue in Mutare with over 20,000 people on the housing waiting list according to Town Clerk Obert Muzawazi.
Muzawazi said to avert this situation city council was looking to increasing its area as detailed in the proposed city master plan document.
"We have a waiting list, which has excess of 20,000 for high density (suburbs) and excess of about 10,000 for low density (suburbs), so the total is 30,000," he said.
The master plan proposes development to allay the 35% housing deficit by seeking land to expand the city in three possible dimensions.
Residents associations have also called on municipality to allocate residential stands in transparent fashion saying the existing system was prone to abuse.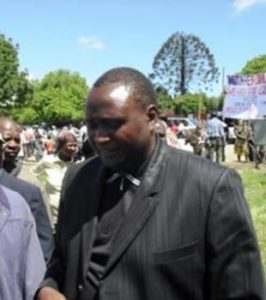 Recently elected Zanu PF legislator for Chikanga Dangamvura Esau Mupfumi told journalists at a post election press conference that he would tackle the issue of double allocation of stands.
"The road network is bad and residents are facing acute shortage of water. There is no electricity and the issue of double allocation of stands is outstanding also. We know that stands have not been distributed properly and we will look into that.
"We will bring development through coordination with Ministry of Transport to do the roads. Ministry of Water will also help us to bring clean water to people," said Cde Mupfumi.
He pledged to ensure that the water tank which was donated for people who stay near World Bank will be in operation soon.
Mupfumi said as a local legislator he will ensure that the operations of the city council are supervised properly so that workers will timeously receive their salaries, urging residents to pay their rates.
"We know that our economy is not performing well but there should be means to entice ratepayers to pay something so that the operations of the council will continue without hindrance. If residents pay their rates workers will also get their remuneration," said Mupfumi.
Combined Mutare Residents and Ratepayers Trust director Maxwell Matiashe also blamed the council for corrupt allocation procedures of corners stands.
"We know that they are distributing stands corruptly, especially on corner stands there is no clarity in how they operate.
"This issue of housing is a problem and unless council starts doing things in a proper manner these problems will always haunt residents who want residential stands," he said.