Moffat Primary School lies approximately 7 kilometers away from the villages in the remote area of Chirumanzi-Zibangwe.
Bracing the winter breeze that sweeps across the wetlands, young boys and girls trudge the dusty roads to reach the school on time.
At the shanty and dilapidated makeshift school, which many like twelve year old, Josiah Mhloro calls school, a day at the school is no better spent in the plains herding cattle.
Every day he and other children of his age have to endure the 14 kilometer tiresome walk to school, yet the conditions at the school are not forthcoming.
In his head he thinks that though it is his right to go school, no future comes from the school that has inadequate educational facilities and resources.
Such is a tear-drawing life that subsists among school kids. While kids in town walk a stone's throw away distance, and an advantage of a wide range of schools, in the rural areas, kids yell for shorter distances — what a hell for rural school kids.
Josiah Mhloro, who has for the past 6 years been running a distance close to 14km everyday puts it graphically when he said, 'it's really an illogical situation. I have to wake up at 4:00 am so that by 05:30am I would be ready for school.
"If I fail to wake up at 4 (4:00am) it automatically means that I will have to run all the way to school.
"I wish if something could be done towards this issue so that at the end of the day we are able to walk a normal distance to school,' he said.
After enduring the 7km journey to school, the kids are greeted by an unpleasant sight which they call school and scrambling for textbooks is the order of the day. All this justifies the dreadful results the school produces.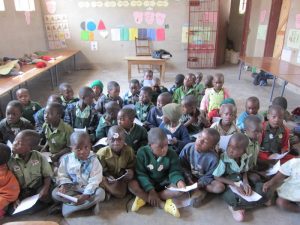 Like many other schools in the constituency and the resettlement areas throughout the country, the school which is 10 years old is still in a devastating state and it is crystal clear that the responsible authorities have failed to improve the structural appearance of this school. This is a clear breach of the Zimbabwean constitution which stipulates that the Government should strive to improve the conditions of both secondary and primary schools.
The chairperson of the School Development Committee, Misheck Maturika solely attributed this lack of development amongst rural schools to lack of cooperation amongst the parents as well as lack of the government to invest in rural schools.
"Parents are reluctant to assist in the school developmental projects and most of the parents can't afford to contribute the finances required to develop the school.
"On the other hand I can say that the government is not doing justice to rural schools," said Maturika adding that government should play a central part in the development of rural schools.
He went on to say that government always donates equipment to urban schools at the expense of rural schools. "Rural schools should as well be treated in the same manner as urban schools that are the only way our schools can develop," he said.
Maturika also said that parliamentarians often take rural people for a ride.
"We often get promises to develop schools prior to elections but such promises often fade away once people have been voted in power.  It has become a routine for politicians to   give people fake promises."
While rural schools and kids are wallowing in poverty, government has spent close to US$20 million on luxury cars.  Recently government has donated stuff including computers to urban schools while neglecting rural schools.
The school headmistress Emeldar Mungofa acknowledged that the school is in a bizarre state with as many as 6 children sharing a single book.
"Things are really tough; we failed to secure money to construct proper classrooms due to shortages of funds.
"Textbooks are another great challenge, we have a serious shortage of text books with 6 kids at times sharing a single book," she said.
The headmistress also disclosed that they have written several letters seeking aid from their Member of Parliament but nothing has been done to address the challenges the school face.
However, Primary and Secondary Education Minister Lazarus Dokora could not be reached for a comment as his mobile went unanswered by the time we published this article.  His deputy Larry Mavima however said he is not in a position to comment on the issue.
Former Minister of Education Sport, Arts and Culture, David Coltart when asked via twitter, contend that rural teachers need to be given allowances.
"First thing is to improve conditions of rural teachers – we should be paying them rural allowances to attract the best out there," he said.
Photo credit: imirevolunteers.org