Numerous police roadblocks in the country have threatened the existing tourist resorts, the Zimbabwe Council for Tourism (ZCT) has said.
The country which was recently listed as the 14th best place to go by the  New York Times, a Popular United States daily newspaper is likely to miss the presence of tourists should the numerous roadblocks continue.
Addressing those in attendance yesterday morning during an AMH Conversations event on the impact of roadblocks, ZCT President Mr Francis Ngwenya said that roadblocks have a major impact on the tourism sector.
"Roadblocks have a major impact on our destination and our ability to grow as the  tourism sector," alluded Ngwenya adding that tourism is key to economic growth and should be treated in a manner that makes it grow.
The country which is home to some of the world's most eye-catching natural wonders had a decrease in the number of tourist visits.
"The increased number of roadblocks has seen places like Great Zimbabwe, Kariba, Hwange and Nyanga not making the amount they are projected to make," revealed Ngwenya.
The police-force which has a tendency of setting set up checkpoints almost every 20km along all major highways have been urged to limit roadblocks especially in roads that lead to tourist destinations.
"We believe roadblocks are a barrier especially where the only access to a resort is by road. Many of the tourists we spoke to have good things to say about the country but they always have something negative about the abundant roadblocks that always lick them of their money.
"We have no problems with roadblocks when they are conducted to make our roads safe and reduce traffic jam," said Ngwenya.
He went on to recommend the police to align road regulations to meet the Southern African Development Community.
"We recommend the police to align road laws to the SADC standards to avoid confusing tourists as they move from one country to another, said the ZCT president.  "Abundant roadblocks does not go in the spirit of movement, we want to create a great experience of tourists travelling to Zimbabwe."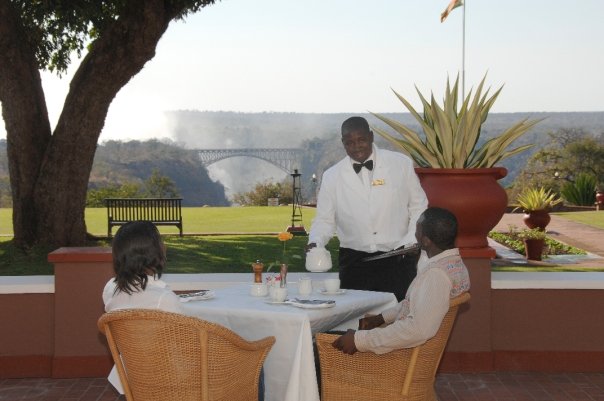 Speaking at the same event, a US tourist from Santiago blasted the police for their malicious behaviour at roadblocks based on his experiences with traffic police on his way back to Harare from Kariba.
"It gives you a bad feeling when a police officer tries to fish out a crime where there isn't one. Motor vehicles should be scrutinised on safety basis, I had my car checked even at the little light on the number plate," said the angry tourist.
Similarly, a report by Zimbabwe Economic Policy Analysis Research Unit (ZEPARU) titled Positioning Zimbabwe Tourism Sector for Growth noted that roadblocks portray the country as a police state. The police are regarded as highly corrupt and unfriendly to foreign tourists.