Press freedom in Zimbabwe remains a mirage with governments' reluctance to align media laws, monopolisation of the airwaves and exerting control over parts of the media being cited by media experts as interferences to a free press.
This was revealed during the commemorations of the World Press Freedom Day held in the capital yesterday.
The meeting was attended by journalists, academics, lawyers and representatives of civic society organisations.
Speakers, who included Chris Mhike and Dr Ibho Mandza among others, described free press as a fallacy in Zimbabwe.
"The media in Zimbabwe is not free, there is policy discord in government making it difficult for journalists to practice their work," said Chris Mhike, a media lawyer.
While repressive laws such as the Access to Information and Protection of Privacy Act (Aippa) and the Public Order and Security Act (Posa) are still in existence, the state-owned ZBC still maintains its monopoly on the airwaves, shutting out divergent views.
"In the broadcasting sector we have massive shortcomings, when compared to the region. We still have a monopolised broadcaster which is does not reflect the views of the reflective of the public," he said.
Mhike also bemoaned the secrecy behind the licensing of radio stations.
"On the commercial broadcasting level licensing remains unorthodox," he said.
To worsen the situation of press freedom which is in the doldrums, the Broadcasting Authority of Zimbabwe (BAZ) is bursting with members who are affiliated to one political party.
"The appointment of Broadcasting Authority of Zimbabwe (BAZ) members was not transparent, the minister and President have a very long rope to select whoever they want to sit in the BAZ board," said Mhike.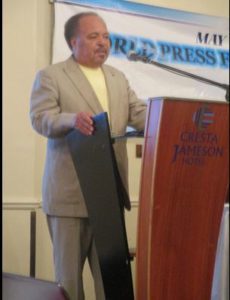 Dr Mandaza said it's still the same old coca cola bottle but with different tops.
"Rhodesian media reflected that the state was under siege with the deletion of very important information. The state had control of the media and that's not different from the one we have today," said Dr Mandaza
Dumisani Muleya, the Editor of the Zimbabwe Independent blasted the government for censoring the media.
"The birth of the internet has seen the expansion of news agencies so it's stupid for the government to politicise the media and expurgate information.
He also said that constitutional framework is not enough still. There is need for the government to implement its policies. As it is practical realities seem different from what is promised on paper.
It's now almost two years after the new constitution was adopted and many policies including media laws have not been aligned to the new constitution.
This year's international commemoration is running under the theme: Let Journalism Thrive! Towards Better Reporting, Gender Equality & Media Safety in the Digital Age.
Locally the commemoration is running under the theme: Reform media laws now for sustainable diverse and free media.