Pesticide hawkers have flooded Bulawayo's Central Business District (CBD) in the past few weeks, amid fears that they could be an impending  outbreak of pests in the city.
The hawkers clad in bright orange or navy blue overalls, have literally taken over most street corners competing with newspaper, sweet and vegetable vendors.
However, they seem to have an edge over the other vendors as they have employed the use of battery operated hailers, to market their products.
Their uniform message, "Umuthi obulala amagundwane, amawuwu lempukane, khonapho khonapho (A pesticide that kills rats, cockroaches and flies instantly)" has become so popular with residents.
In fact it has become more of a joke to many people, especially the "Khonapho Khonapho" emphasis, with many people now using it in everyday speech.
Zimbabwe Congress of Trade Unions (ZCTU) members who marched through the city on Saturday 11th April 2015 also used the figure of speech in their messages, calling on government to deliver the two millions jobs it promised, Khonapho Khonapho (instantly).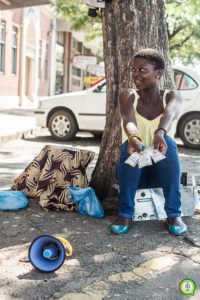 In an interview with 263Chat, one of the hawkers, spoke highly of their products which she said had the power to exterminate all troublesome pests within a short period.
"The pesticide is so powerful that if you apply it in your house or office, all those pests that were causing you headaches and sleepless nights, will be killed instantly," said Memory Dube.
She added that they bought the pesticide in Harare in bulk and repackage it in small packets which are sold for $1,00 each.
However, some residents who have bought it and used it in their homes, say the products do not work.
Dube however said they have also been inundated with complaints from unsatisfied customers.
"We have had people who come to us saying we sold them fake products. I want to assure you that our product is the real deal. There are some people who are selling expired products but not us," she said.
The Bulawayo City Council (BCC) had not responded to questions sent to them at the time of publishing.