Thousands of people rammed each other at the entrance of Borrowdale Race Course, the usual venue for the OK Grand Challenge. The shoving was impelled by the need to secure an auspicious sitting spot, where one would watch the proceedings without any interference.
At the entrance, a man in his forties is drawn into a hysterical dispute with the gates men. Although he was outstripped by security guards he kept on averring that he wanted his money back.
He was claiming that there was a ten-dollar note shortfall on his change.
The man caused a scene, which attracted much attention. At that moment no one thought that this man would leave the race course driving the brand new red, double-cab Nissan Navara – YES he was the winner of the 2015 OK Grand Challenge jackpot prize.
In an exclusive interview with 263Chat, Todd Mutukwa (43), the 2015 OK Grand Challenge winner related how the day that started on a bad note changed his future.
"I had pocketed $20 to spend with my family. As we enter, at the gate I paid for three people using that twenty dollar note.
Instead of giving me $17, the guy gave me $7, zvoreva izvo kuti andibira $10 yangu (meaning there was a shortfall of $10)
"Andibira mari yangu but anyway it doesn't matter anymore as I have been blessed with a gift worth thousands of dollars," he said with a smile on his face.
The ten-dollar dispute was then reported to the police and a docket was opened. Although a docket was opened, Mutukwa's money was not reimbursed.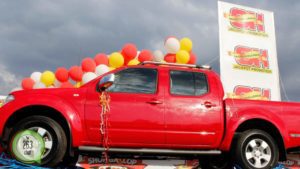 Todd Mutukwa who hails from Glenview 7 in Harare, had purchased his family's monthly groceries at OK Glen Norah and that's where he was given the coupon that changed his life.
The father of five said that his financial woes were turned into a prosperity in the blink of an eye.
"I was facing some few problems but today I'm happy after a complete year of financial troubles. I'm blessed," he said as he ran out of words to describe his merriment.
Mutukwa was visibly happy and could not hold back tears of joy that flowed endlessly on his face. He landed the biggest prize of the 2015 Ok Grand Challenge.
He deposited the winning coupon on the day of the grand draw.
Mutukwa is an Accountant by profession and he works at the Ministry of Agriculture.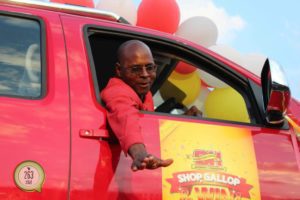 Mrs. Mutukwa who was also present at the event said she was happy that the family had won a car and she would ensure that the car remains in the family and serve as a reminder of how God blessed them in 2015.
"I'm extremely happy with what happened. I'm grateful for what God has done for us. God does not look at the physical appearance of a person but he blesses abundantly.
"This is a gift that the lord has given to the family and it will remain a family property," she said.