MUTARE– A residents' organisation has called on residents vending here to obey government's directive to vacate the central business district (CBD), but calls for proper alternative vending sites.
Information and Publicity officer for Combined Mutare Residents and Ratepayers Trust (CMRRT) Rutherford Mangani, the residents' body said this call was issued out of the sanctity of human life.
Minister of Local Government, Public Works and National Housing Dr Ignatius Chombo issued this ultimatum to vendors as government moves to clean urban CDBs flooded by vendors on pavements, street corners and undesignated sites.
Read part of the statement, "We make this statement on the merit that human life is sacred and an operation of this magnitude involving the army may lead to serious injuries even the loss of life to our fellow residents.
"Though we are strongly against the move by the Government to remove vendors from the streets, we urge our citizen to be law abiding citizens and uphold the law.
"However we are kindly asking our government to revisit this initiative and assess the impact of such an operation, both politically and maintaining state peace, given that the same government has sat and watched the vendors spiralling to such proportions."
CMRRT also tore into government for failing the nation by presiding over a dysfunctional economy which has failed to generate jobs.
As part of its campaign strategy in the run up to the 2013 election ZANU PF promised to create over 2 million jobs, a situation which has failed to come to fruition, instead company closures are the order of the day.
CMRRT said government should grant more time to the hard pressed vendors who are struggling to eke out a living.
"The government has also failed to meet its promise of providing jobs and sustainable projects to the citizens that they convincingly initiated on the run up to the 2013 Presidential Elections.
"Government should grant vendors more grace period to the vendors to vacate the streets, as these are the only income generating activities the vendors execute to meet the high cost of living," said CMRRT.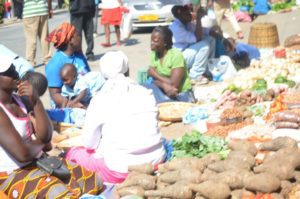 As residents we feel that, vendors are faced with different financial obligations and challenges, they need to settle debts with the very same government; there was a generous move by the Local Authority to scrap municipality bills if citizens pay half of the bills of which they have to meet a deadline. There are faced with school fees and recently hiked examination fees by the very same government.
CMRRT also dragged the First Lady Dr Grace Mugabe and ZANU PF candidate for Chikanga Dangamvura by election Esau Mupfumi into the vendor saga claiming that both said vendors should not be removed.
In a series of her 'Meet the People' tour following her elevation to Women's League boss, Dr Amai Mugabe lambasted the Zimbabwe Republic Police for chasing around old women and confiscating their wares for personal use.
On the Dr Amai Mugabe and Mupfumi's pronouncement CMRRT said: "The most boggling factor is that the First Lady is on record saying that vendors were not supposed to be removed from the streets, aspiring ZANU PF Member of Parliament candidate, Mr. Esau Mupfumi in different wards on his campaign tours has shared the same sentiments that vendors should not be removed from the streets, it is the noblest idea given the economic challenges residents are facing.
"We suggest the government provide alternative vending places, in this regard creating employment, availing community development funds, in a nutshell fully implementing the ZIMASSET Blue print Agenda.  Zimbabwe is for us all let us be actively responsible both the government and residents we all have a role to play. As CMRRT we will lobby and engage our Government on behalf of residents through our local authorities as we have been doing all this while and find an amicable way forward."
Meanwhile, in a snap survey carried out by 263Chat in Mutare, vendors expressed mixed feelings over this issue as some said they would comply with the directive while others said they would remain in the streets.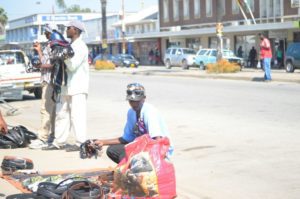 Tinashe Marange said they were afraid of the intervention of the Zimbabwe National Army into the saga as he witnessed how they brutalised diamond panners in Chiadzwa.
"Ahh izvi zvaane masoja saka pakaipa mukoma (Now that soldiers are involved it's a different ball game). We will go because we know how these soldiers operate nekuti takange tiri kumunda (because we were there in Chiadzwa diamond fields," he said.
CMRRT is a community based organisation championing civic engagement in municipality issues in the eastern border of Zimbabwe.