The Zimbabwe women's team, the Mighty Warriors have progressed to the next round of the 2016 Rio Olympics qualifiers after beating Zambia's Shepolopolo Queens 1 – 0 to progress on away goals rule after a 2 – all aggregate draw.
The away goals rule also worked in favour of Zimbabwe U-23 men team's after Callisto Pasuwa's charges forced a 2-all draw against Swaziland away in Mbabane, to progress to the U-23 Africa Championship.
A scoring draw was good enough for the Young Warriors who were held nil-all by Swaziland in the first leg.
A goal by Captain Felistas Muzongodi in the first half was all Zimbabwe's Mighty Warriors needed to progress to the next round of the Olympic Games women's soccer qualifiers.
Mighty Warriors coach Rosemary Mugadza was pleased with his charges' performance and that they were looking ahead for the next round.
"We are happy that we managed to go past Zambia and we hope that we will go and prepare well for our next game late in July," said Mugadza.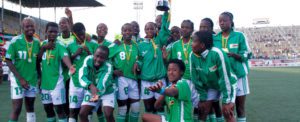 Zimbabwe lost 1 – 2 in the first leg a week ago in Lusaka and they at least needed a 1-0 victory to progress to the next stage. Rudo Neshamba scored the crucial goal in Zambia than gave them the advantage over their opponents.
Shepolopolo were awarded a penalty after Zimbabwe goal keeper Chido Dzingirai fouled their striker Barbra Banda inside the box but Ireen  Lungu failed to convert the spot kick when her effort went wide.
Muzongodi scored the much needed goal from a free-kick just outside the box in the 24th minute when Zambia goalie handled the ball outside the box as Zimbabwe pilled the pressure on the visitors.
The Mighty Warriors will now face Cote d' Ivoire in the next round scheduled for July.
While the Mighty Warriors' win ensure progression to the next round, the Young Warriors will meet South Africa in the final round of qualification for the Africa U-23 Championships in Senegal in December.
Photo credit: www.southerneye.co.zw