The reigning Zimbabwean sports person of the year, Charles Manyuchi is set to defend his title against a Mexican fighter this month in Zambia.
The pugilist who is set to fight 32-year-old Mexican Silverio Ortiz to defend his World Boxing Welterweight (WBC) belt on 25th of this month is confident he will overcome the North American.
The top-notch boxer, who is currently under the tautology of Oriental Quarries Boxing stable in Zambia, has intensified his training ahead of the fight against the North American boxer.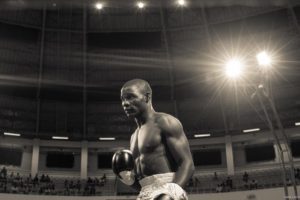 Asked ahead of the fight the Zimbabwean boxer was oozing with confident to defend his title on the upcoming fight against his North American opponent and he also revealed that preparations were coarse.
"The preparations are going well here in Zambia and I am very ready to defend the title.
"It is an obvious thing that I will win and nothing can stop me," revealed confident Manyuchi.
Manyuchi was initially scheduled to fight with Russian boxer David Avanesya last month to defend his belt but the fight was called off due to both boxers failing reach a consensus on the venue and this gave the Zimbabwean more time to prepare for the prestigious knockout fight this month.
The Russian counterpart Avanesya wanted the fight to take place in Russia but Manyuchi rather wanted the fight to take place in Zambia were he conduct most of his training that resulted in the fight crumbling.
"The match with David has been cancelled because of venue indifferences but I am glad to say I will be meeting another boxer from Mexico on the 25th of this month," said Manyuchi.
Manyuchi has had a successful path over the years after he defeated Ghanaian Patrick Allotey a year ago and he went on to defend his title against David Casseres of Colombia by a second round technical knockout in November last year.
Silverio José Ortiz Ley is a Mexican boxer in the Welterweight division. Silverio is the current IBA Light Welterweight Champion.
Out of the 48 bout he has faced, he won 34 (KO 16), lost 14 (KO 4) and drawn and Manyuchi will be looking forward to extend his rich vein of form and built on his impressive record that has seen him winning 15 (KO 9), lost 2 (KO 0) and drawing one match out of the 18 matches he has faced since his debut in 2009.
The reigning Zimbabwean sports person of the year has another tough assignment ahead of him after Mexican duo he is set to face Ibrahim Class in the for the ABU title on May 2 and on July 18 face a much tougher opponent Italian boxer Glanluca Frezza.
Frezza out of 26 bout, he won 22 (KO7), lost 2 (KO 0) and drawn 2.