Journalist in Zimbabwe today condemned Econet Wireless and its subsidiary banking unit, Steward Bank for raiding the offices of an online news agency, The Source in a dispute over stories published earlier this year.
This emerged after a planned Steward Bank press conference failed to yield results as journalists continuously interfered demanding an apology from them.
Scores of  journalists entered the venue, holding up signs reading "Press freedom is a constitutional right" in support of The Source and press freedom.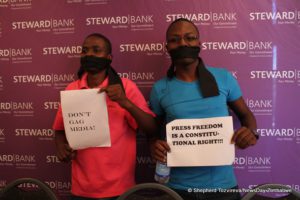 Tawanda Nyambirai, who was introduced as the Steward Bank lawyer came under fire for refusing to apologise for the malicious behaviour by the bank, prompting journalists to walk out of the presser.
"What Nyambirai has done is regrettable, we condemn such behavior and we will never tolerate such behavior as journalists said Danmore Chuma, a freelance reporter.
Jeffrey Moyo, stringer for Inter Press Service News Agency said, "As a journalist I'm proud of the action taken by fellow journalists, what Nyambirai was trying to do is actually unlawful he didn't want journalists to express their feelings on Econet's invasion of The Source.
He went on to complement journalists for displaying awareness of their rights.
"We are happy that journalists value media freedom in Zimbabwe. It is clear that value their profession," said Moyo adding that journalists know that they yield much power than any wealthy person in the country.
Chris Mhike, a lawyer for The Source who was also at the press conference said, "The manner in which the misunderstanding is turning won't benefit anyone.
"We are very open to resolve the matter in an amicable way," he said.
He however said, "the Econet – spearhead raid jeopardises freedom of expression and freedom of the media."
The matter is now pending before the High Court after The Source challenged the action and sought to have the case referred to the Constitutional Court.