Minister of Environment, Water and Climate, Saviour Kasukuwere, on Tuesday urged youths to be involved in the economy saying youth's participation will stimulate economic growth.
Youths, who constitute about 70 percent of Zimbabwe's population, are the majority of people are unemployed. Unemployment is currently estimated at 80 percent with youth unemployment in Zimbabwe being four times higher than that of adults.
Addressing multitudes of youths who gathered for the Zimbabwe Youth for Development Agenda discussion titled Economic growth: Zimbabwe where to from here, Kasukuwere urged youths to be part of the economy.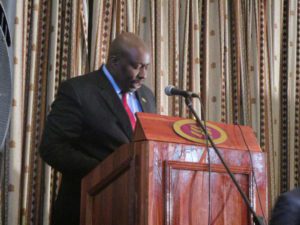 "President Mugabe has opened the economy for us, let's take advantage of that and get ourselves involved in the economy," he said.
He also said that, "We acknowledge the myriad of challenges we are facing but you as young people, you should help in overcoming these challenges."
Kusukuwere who is also, Zanu PF Political Commissar, urged the youths to refrain from looking up to foreigners to revive the economy.
"It does not require foreigners to rejuvenate our economy.
"Don't make somebody come and change your nation," Kasukuwere challenged the youths.
He also encouraged youths to take a leaf from countries like Turkey, China and Russia.
Kasukuwere said, "I'm not here to promise you money but to challenge you to work hard so that you can make a difference in the economy."
He also encouraged youths to work hard and desist from taking short-cuts.
"Do not take short cuts be prepared to work hard. Money follows a good idea and it will never come your way unless you go its way," he said.