Once the breadbasket of Southern Africa, Zimbabwe has since the turn of the millennium struggled to regain its domineering status as an agriculture driven economy.
A combination of the chaotic land reform, climate change and poor government policies saw the country lose its kingship tag to its regional counterparts such as South Africa and Zambia who are now Zimbabwe's major suppliers of agricultural produce.
While Zimbabwe continues its search for solutions to address food crisis that has become an annual problem, Clive Nyapokoto, a final year Software Engineering student at the Harare Institute of Technology could be what the country needs right now.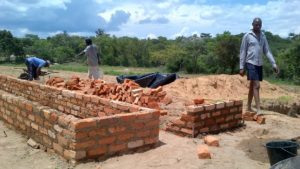 The upcoming scientist and technocrat has overcame numerous adversities to develop a smart integrated organic farming system called the Vermi-Aquaponics System that if supported and adopted could shape the future of agriculture not just in Zimbabwe but the rest of the world.
"This project is the future of farming especially in the ever changing climatic conditions and economically challenging environments. It is going to increase food productivity for both urban and rural farming communities", said Nyapokoto.
With his life changing innovation, Nyapokoto has already scooped various local and international accolades including Energy Globe National Award 2016 in South Africa where his project was unanimously voted the best solution by Advantage Australia, and the Trade Promotion Organization (TPO) which recognizes successful projects in green technologies.
"In July 2015 the system was among some of the top 40 innovations in Zimbabwe at the Innovation Baraza that was sponsored by the United States Embassy in Zimbabwe. The VA system was selected in the top 16 Agro- based innovations by the Idugu Institute in December 2015," said Nyapokoto.
According to Nyapokoto, the Vermi-Aquaponics system is a smart integrated organic agricultural system which integrates Aquaponics, vermiculture, small livestock and ICT technologies in a controlled looping environment.
Aquaponics is a smart soil-less farming system which can be modeled to suit any climatic region for food production and can be done as vertical indoor/ outdoor farming. Vermiculture is the process of using worms to decompose organic food waste, turning the waste into a nutrient-rich material capable of supplying necessary nutrients to help sustain plant growth.
Nyapokoto's system is supported by sensors which are used to remotely monitor and control the activities within the fish pond and crops making it secure from extreme weather conditions.
800 farmers are using the system and have started selling the worms to a local company which produces organic fertilizer. In addition, two plots have been designated for the implementation of the project, in Harare and Wedza with one of the major hotel groups in the country adopting the system and is already converting kitchen wastes and office paper which they using as food for fish.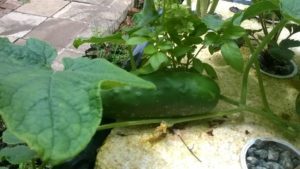 "After developing a functional prototype in 2014 a local Non-Governmental Organization Panhari, assisted Nyapokoto with a small grant to start a bigger system which is currently work in progress in Marondera, Svosve communal lands.
In April 2016, Nyapokoto's project was selected as part of the Zimbabwe Social Entrepreneurship Boot Camp, a six months intensive training programme funded by the United States Embassy on how to run social enterprises in Zimbabwe.
The Vermi-Aquaponics (VA) system has a lot of advantages as sustainable agricultural system. There is no need to be present at the unit every time as you can monitor and maintain your system remotely thus saving time and allowing one to carry out other tasks. Information and Communication Technologies are more efficient in the monitoring and maintenance of the system.
The system is energy efficient as it requires less electrical energy to power the unity – a small solar unit can power up a very large system efficiently. The various produce is organic and very nutritious. Space utilization can be done anywhere even on places where the soil is said to be poor or on roof tops and allows for vertical farming. There is also no need for artificial chemicals thus saving money and no digging, no weeds, saves water by almost 90%. Vermiculture is a waste management technique that uses bacteria and it gives multiple revenue streams.
Zimbabwe has reached a climax stage where only a total technology adoption across all industries will definitely change our fortunes. This week the 263Chat team will be travelling to Marondera in Svosve village to shoot a small documentary on how Clive Nyapokoto has managed to implement his VA System. Stay tuned because the battle for relevance continues!!