ZHDA President Abduction: Doctors Threaten Continuous Strike
...Doctors Demands the Release of one of their Leaders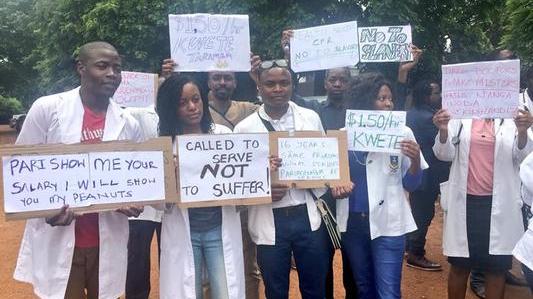 Medical doctors have threatened not to report for duty until the President of the Zimbabwe Hospital Doctors Association (ZHDA) Dr Peter Magombeyi, who was abducted on Saturday night is released, in a move that is likely to cripple the already ailing health delivery system in the country.
Most health centres in the country are struggling to provide services to patients due to shortage of drugs and incapacitation of staff members due to poor remuneration.
Dr Magombeyi was reportedly suspected to have been abducted by three men at his house in Budiriro and his whereabouts are still unknown.
Earlier, Magombeyi is suspected to have received threats on his phone over his refusal to accept a 60 percent salary increment from government.
This morning, doctors took to the street to protest against his abduction insisting that they will not report for duty until he is released.

Fellow doctors, are in the streets since Sunday, promising that they will not go to work until Mugombeyi is found, singing and dancing 'he, Peter is a relative to us, he is one of our own, (ihama yedu, Peter umwe wedu).
"No Peter, No Work", chanted a group of doctors who picketed in town.
Police spokesman Assistant Commissioner Paul Nyathi said the police will start its investigations since they have received news of the abduction.
Meanwhile, the Permanent Secretary in the ministry of Information, Media and Broadcasting Services, Nick Ndabaningi Mangwana has blamed an invisible third force for the abduction.
According to Mangwana, the state has no reason to undermine itself and destabilize the country through acts of abductions on its citizens.