By Farai Dauramanzi
The City of Harare on Wednesday 29 October 2014 received fire tenders that were donated by the Insurance Council of Zimbabwe (ICZ).
After this donation, Harare's fire department now has 12 fire engines at its disposal from a mere seven. The fire department has been struggling for many years and this donation is set to go a long way in improving the department's efficiency.
Speaking at the handover ceremony Bernard Manyenyeni the Mayor of Harare said that the donation came after council had made a presentation to ICZ detailing the dangers that might befall the City in the event of a major accident.
"ICZ's wise and calculated decision making, they saw it prudent to assist. As they say in medicine prevention is better than cure. ICZ saw it worthwhile to provide the fire tenders to protect investments in the City," said Mayor Manyenyeni.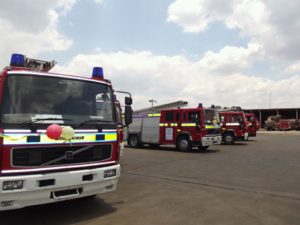 "Properties worth billions of dollars and human lives have been lost in fires and road traffic accidents in the past because there was no rescue equipment. Now that Harare has 12 fire tenders all donated by our friends we will be able to attend to fire and traffic emergencies," added Mayor Manyenyeni.
However, the Mayor noted that the city was still in need of more emergency services equipment such as ambulances and more fire tenders.
"The City is still burning, we need  more fire fighters, council still operates at below desirable levels of efficiency financially and otherwise," explained the Mayor.
Elliot Chiweshenga the ICZ chairperson said that his organisation made the donation after realising that the City was experiencing a shortage of equipment for fire fighting which was causing unquantifiable damage to property and human lives.
"The purpose of these fire tenders is to avoid the issues above as they (Council) can be efficiently be able to prevent or reduce the impact of fire damage and its negative consequences," said Chiweshenga.
The City also paid tribute to Peter Lobel who did the procurement of the fire tenders, arranging for the shipment and with the help of his team based in America also drove the vehicles from Namibia to Harare. Lobel himself has donated four fire tenders to council which are among the working 12. The other three were donated by Operation Florian a United Kingdom based organisation.