Vehicles parking everywhere and mounds of uncollected rubbish in the central business district are a sure sign that Gweru City Council workers have at last downed tools in the Midlands capital following the local authority's failure to pay bonuses and back-pay.
Parking marshals are notorious in the city of 300 000, with those who default in paying a dollar for an hour of parking space having their vehicles clamped or subsequently towed away. The vehicles can only be released after payment of close to $100 is made.
Municipal workers, who were also owed three months salaries and had resorted to daily salary protests at Town House during tea-break, dubbed 'Ku-tea', since yesterday stopped clamping vehicles and left streets unswept as top officials and councillors wine and dine with statesmen and business delegates at the on-going Zimbabwe International Trade Fair (ZITF) in Bulawayo.
Attempts to 'silence' the workers buy providing  residential stand for each one of them in Mkoba Village 21, currently being developed, have seemingly failed to bear fruit.
This slideshow requires JavaScript.
"We have been warning city fathers that we would go on strike, so this action comes as no surprise at all," said council spokesperson Cornelia Selipiwe. Council only paid the workers their December salaries last week.
"The industrial action will go ahead until the employer addresses our grievances."
Dubbed 'The city of progress' the local authority also saw its effort to mark centenary celebrations being blocked by the militant workers committee, known as 'Boko Haram.'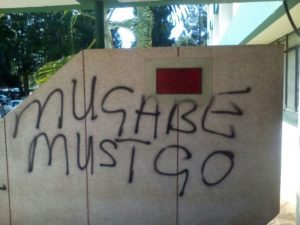 The strike turned political, with graffiti ordering President Robert Mugabe to go. 263Chat witnessed hired youths being made to wipe off the paint. Workers were all over in town on Wednesday, with most of them seated on the Civic Centre Grounds contemplating their next move.
Neither Town Clerk Daniel Matawu nor council spokesperson Tapiwa Marerwa was available for comment.