FIFA President Gianni Infantino is expected to grace, Zimbabwe Football Association (ZIFA) President, Dr Philip Chiyangwa's birthday party set for Harare on 24 February, 263Chat has learnt.
In an invitation letter addressed to his counterpart, Zambian football boss, Kalusha Bwalya, Chiyangwa reveals that Infantino will be the guest of honor at an event which will coincide with his COSAFA Presidency victory celebrations.
"It is with great pleasure that I write to you to invite you to a ceremony to celebrate and mark my victory as COSAFA president and my belated birthday as I was born on the 3rd of February. The celebrations will be held on 24 February in Harare, Zimbabwe.

The FIFA President- President Infantino will grace the occasion as the guest of honor. It is my hope that you will find time in your busy schedule to these important and historic celebrations," said Chiyangwa's letter.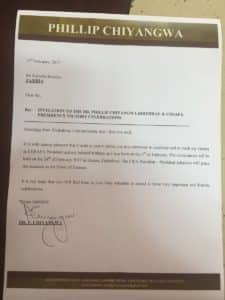 If Chiyangwa's ambitious move to bring Infantino to Zimbabwe is anything to go by, it will be the first time that the FIFA boss sets foot on these shores.
The development has not gone down well with the Confederations Of African Football (Caf) president Issa Hayatou who is accusing the Cosafa  and Zifa president of trying a boardroom coup ahead of the much anticipated Caf presedential elections set for Ethiopia next month.