The drug and alcohol abuse trend in the streets of Harare is fast becoming out of control, sucking into its vortex exasperated youths escaping their unemployment dilemma through boozing.
The abuse of illegal and high alcoholic spirits is rife in the capital and the same is replicated across the country's growth points and cities.  Such areas where alcoholic spirits are prevalent include bus terminuses like Copacabana and 4th bus terminus and high density areas like Budiriro, Glenview, Chitungwiza among others.
Most of the youths abusing the spirits and alcohol have found themselves involved in violence, prostitution and  thuggery .
A study looking at survivors of gender violence in Zimbabwe found that consumption of alcohol was often involved in cases of domestic violence.
In a paper entitled 'Drug Use, Abuse and Alcoholism in Zimbabwe' published in October 2002, argued that alcoholism is one of Zimbabwe's four top diseases. The paper states that at least three million people in Zimbabwe are alcoholics. The paper also projects that in the next 20 years, alcoholism will be the country's number one social problem.
To say the streets of Harare are rife with drugs and alcohol abuse is sarcastic and an underestimated of the drug abuse dilemma, a snap research conducted by 263chat has revealed.
During the survey, 263Chat established that people in the high density particularly youths lack knowledge on drug use and abuse
263Chat can exclusively reveal that there is a high number of youths who are taking illegal substances such as Bootleg, Kenge, dagga , cough mixtures, Boots, Bronchodilator (a lung medicine that contains cocaine and alcohol)  commonly known as Bronco and Histalix.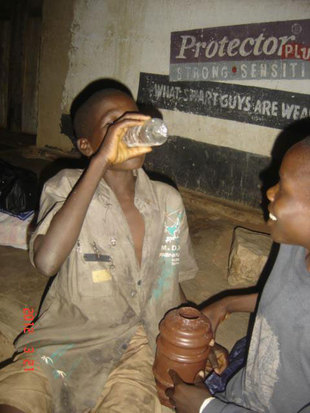 It is clear that people and organisations responsible for educating and raising awareness on drug abuse seem to underestimate the magnitude of the problem as no particular initiatives have been spearheaded to curb the problem.
Most of the spirits are consumed in deserted buildings, along railway lines, beer halls and more recently in schools.
Statistics from the Anti-Drug Abuse Association of Zimbabwe reveal that drug abuse in schools has reached alarming proportions with more than 43% of students interviewed indicating that they know schoolmates engaged in depravities such as smoking.
It is however the effects of the consumption of these substances which are hard to camouflage with drugged youths lying on the pavements of the streets.
These substances are mostly imported form Mozambique and Tanzania and they are smuggled into the country.
Despite being barred under the Drug Act, illegal drugs have found themselves flooding in the streets of Harare and selling like hot cakes, for as little as one dollar.
James Jusa, a tout at 4th Street Commuter Terminus said that he prefers a mixture of Bronco and Bootleg for maximum effect.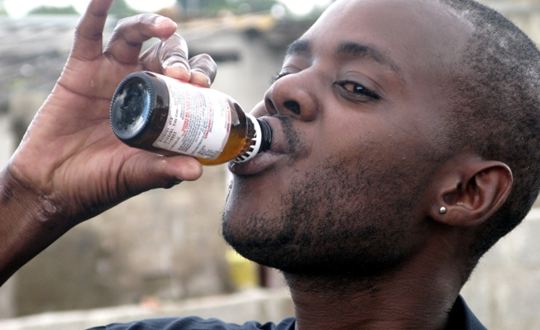 "If I want to stay high for the whole day I just mix Bootleg and Bronco which I purchase for $2, Two American dollars can take you into the seventh heaven," he said with a smile on his face.
Richard Togarepi, echoed the sentiments above when he said that he opts for Bronco so that he would wipe away nervousness when touting.
263Chat also spoke to Kelvin Otala, a victim of drug and alcohol abuse who had just been discharged at one of the Austin drug and alcohol centers.
Otala, was quick to point the effects of these drugs and alcoholic beers.
"Once you are in for the drugs, it is very difficult to let go. It will make you engage in illegal activities so that you keep yourself high," he said.
At Mbare Musika, the highly alcoholic beers are sold openly by the vendors who claim that they have to bribe police officers so that they continue doing their daily errands.
A vendor who requested anonymity revealed that his usual customers are touts and rank marshals whom, he says, get the alcoholic drinks on credit during the day and they pay later when they have raised the money.
'I trade my stuff mainly to people who operate from within this rank since they require some influence to carry out their work,' he said.
A health expert, Dr CG Mapuranga, said that people need to be educated on the effects of drug and alcohol abuse.
"There is need for extensive education on the effects of drug abuse. I also think that setting up local home industries for young people would help them to stay off the streets," she said.
She also called on the parents to look out for their children and pay particular attention to the places they visit.
About 65% of Zimbabwean youths are said to suffer from mental problems due to drug and substance abuse, and unemployment.
Recently Twenty-eight students from different private colleges in Harare were arrested after organising a "nude party" in Westgate. It is believed that all of the students were under the influence of drugs as they looked tipsy.
United Nations Secretary-General Ban Ki-moon, in a speech read on his behalf by Tafadzwa Mwale, the Officer in Charge of United Nations National Centre, said 20% of the world's young people experienced a mental health condition each year.