Close to 80 Civil Society Organisations (CSOs) have threatened to lobby the Southern African Development Community (SADC) and the African Union (AU) member states to remove President Mugabe from chairing these regional blocks should the government fail to immediately release Itai Dzamara.
Addressing journalists during a joint CSOs press conference, Dr Pedzisai Ruhanya said CSOs will engage SADC and AU on the matter.
"Civil Society Organisations in Zimbabwe demand the immediate release of journalist and pro-democracy activists, Itai Dzamara, failure of which we will lobby SADC and AU member states to remove President Mugabe from chairing these regional blocks," said Dr Ruhanya.
The legitimacy of the Zimbabwean Government was questioned as a result of the increase of citizen abductions.
"It is the fundamental role of any government including the Government of Zimbabwe to protect its citizens. If you are a government and you are not able to play a fundamental role as a government it means your legitimacy becomes questionable.
Civil Society Organisations urged Dzamara's abductors to immediately release him.
"Civil society unanimously call upon Itai Dzamara's abductors to immediately release him, his protest actions for which he is clearly being harassed by the state are protected by Section 59 of the constitution of Zimbabwe.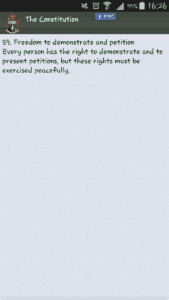 "Beyond the assurances from police and Vice President, Emmerson Mnangagwa, which are sceptical of basing on past incidences where they turned out to be insincere, government must facilitate a speedy and judicious process that brings Itai Dzamara back, "said Ruhanya.
Speaking at the same event Jestina Mukoko, the Director of Zimbabwe Peace Project revealed that the Civil Society has every reason to think that the state is complacent with such abductions as shown by her abduction and disappearance in December 2008.
"Undemocratic actions such as abductions, intimidation and torture by state against activists are disheartening when the lives of Zimbabweans are becoming more difficult due to the government's failure to arrest the worsening socio-economic challenges in the country," said Mukoko.
Itai Dzamara was reportedly abducted by five unknown people who are allegedly linked to the Central Intelligence Organisation in Harare's Glen View 7 suburb on Monday 9 March 2015.