Corruption Allegations Surround New Chiadzwa Diamond Mining Deal
Community left in the cold as diamond deal takes new twist?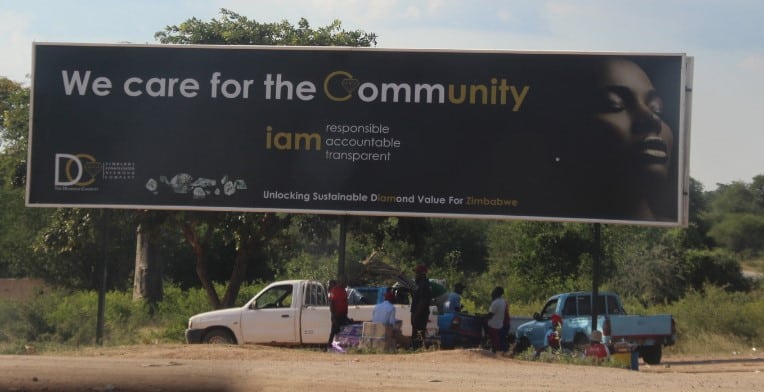 MUTARE– A top human rights defender, Farai Maguwu has raised alarm over unclear circumstances surrounding a partnership deal between Vast Resources and Botswana Diamonds, which could leave the Chiadzwa community in the cold.
By Donald Nyarota
Botswana Diamonds reportedly concluded an agreement with Vast for the development of diamond concessions in Marange, with a separate agreement covering the joint development of diamond properties outside of the Marange Diamond Fields.
Previously, Zimbabwe Consolidated Diamond Company (ZCDC) entered into an agreement, which is under finalization, with Katanga Resources- a joint venture of Vast Resources and Chiadzwa Community Development Trust.
Katanga Resources joint venture with ZCDC is for the purposes of exploring and mining at the Chiadzwa Community Diamond Concession and marketing the diamonds from the operation.
However,  Centre for Natural Resource Governance (CNRG) director Farai Maguwu said the recent signing of a deal between Vast Resources and Botswana Diamonds prejudice community interests in gem extraction.
Maguwu said Zimbabwe was being robbed of her natural resource wealth through intricate syndicates linked to powerful politicians which are using the community as a smokes screen to cover rampant corruption.
He said the public has been misled to believe that the community will benefit from the deal through a company owned by one Newman Chiadzwa, who is working in cahoots with a powerful politician.
"The agreement is as opaque as other previous agreements that saw Zimbabwe being robbed of more than $15 billion within six years of continuous pillaging. The involvement of Chiadzwa Mineral Resources is a smokescreen to cover up for corruption.

"CMR is owned by Newman Chiadzwa and it is not owned by the Marange community. Newman will be co-benefiting with the son of a very powerful politician without whom he wasn't going to get the concession.
"So, corruption is written all over the agreement and any self-respecting government would not mortgage such a precious resource for close to nothing as we are witnessing," he said.
In a social media post, Maguwu castigated the move to have an agreement of a joint venture between Vast Resources and Botswana Diamonds to form a new entity called Newco without parliamentary approval which he said will see more diamonds leaving the country in unorthodox ways.
Maguwu said the new development puts the givernment under scrutuny for signing numerous mining contracts and warned that the country's general populace will not benefit anything at all if politicians are left to push unclear mining deals.
"So, London listed African Consolidated Resources (ACR) has changed its name to Vast Resources, formed a joint venture with a Consultancy Partner, Botswana Diamonds to form Newco, in which Vast has 97.5 percent shareholding whilst Botswana Diamonds has 2.5 percent they have secretly returned to Marange.
"This JV looks 100 percent foreign. So, where is the Zimbabwe national interest in all this? Who is responsible for these deals? I know for real parliament is not involved. Government ministries and departments in Mutare are in the dark," said Maguwu.
He added, "As long as the country is run like this, when politicians sell national assets for personal gain, when unpatriotic leaders invite foreign syndicates to loot whilst they collect resource rents, forget about economic recovery."
Under the new agreement which replaces the Heritage Concession Agreement, Vast Resources and BOD joint venture vehicle Newco will hold the interests of Vast in the Chiadzwa Community JV and Katanga.
When the agreement between Katanga and ZCDC becomes effective, Botswana Diamonds will be issued with new shares representing 2.5 percent of Newco, while Vast will provide all capital requirements for the project commencement on a loan account to Newco, up to a maximum of US$10 million.