Leading South Africa based Entertainer Casper Nyovest was one of the first to speak out against Xenophobia attacks in South Africa, but it was more his actions that have shown his deep rooted desire for a united and peaceful Africa. The humble but strong minded artist donated a cheque for R100 000 through Diaspora Relief to assist the displaced victims of the recent Xenophobia attacks in South Africa. Diaspora Relief is a momentous initiative started by Zimachievers Achievers Founder Conrad Mwanza.
The presentation ceremony was held at the Zimbabwe Embassy in Pretoria and was presided over by the Zimbabwe Ambabssador to South Africa, Honourable Ambassador Isaac Moyo.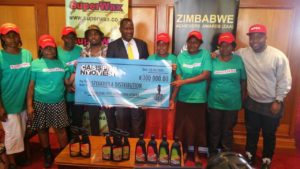 Soon after the attacks, Casper Nyovest paid a visit to the camps where displaced victims had been settled. A representative team of seven, drawn from the victims in the camps, was set up to determine ways of moving forward. It was clear that most victims had lost everything and needed more than just food stuffs and blankets; they needed self-sustainable projects to help them re-build their lives and support their families.
Casper had a very good reception when he performed in front of thousands of fans in Bulawayo after calls were made for him to cancel the shows in Zimbabwe following Xenophobia disturbances.
The R100 000 cheque is already being put to go use in various self-sustainable projects. This has seen the creation of Siyakhula Distributions. This project will allow displaced victims to work for themselves and sustain their families.
Diaspora Relief expressed their unreserved gratitude, and are continually inspired by the dedication and generosity of donors like Casper Nyovest who answer the call both to give and to humanity.