The Bulawayo City Council (BCC) has shot dead over 200 stray dogs, as the local authority is battling to control the spread of rabies in the city.
The exercise which drew the ire of some residents and animal rights groups, commenced in February and ended at the end of March.
The operation was done in conduction with the Zimbabwe Republic Police (ZRP) and the Society for the Prevention of Cruelty to Animals (SPCA).
The two month long exercise was once put on hold after the council ran short of ammunition, with 54 dogs having been put down.
According to the latest council minutes, the exercise cost the local authority $1,510.64 with a total of 271 stray dogs being shot.
"The operation was completed without any major incidences. Only six complaints were received during the exercise and four had been resolved. Investigations were still underway for the other two," read part of the report.
Commenting on the operation, Councillor Gideon Mangena said the lifespan of the exercise should be extended.
"The Committee considered the matter and Councillor G. Mangena observed that the tie up order exercise had ended but there were still many stray dogs especially in high density areas. In his ward (24) there was a vicious dog which was biting residents in the area. This dog was not properly secured. In view of this the tie up order should continue," read the report.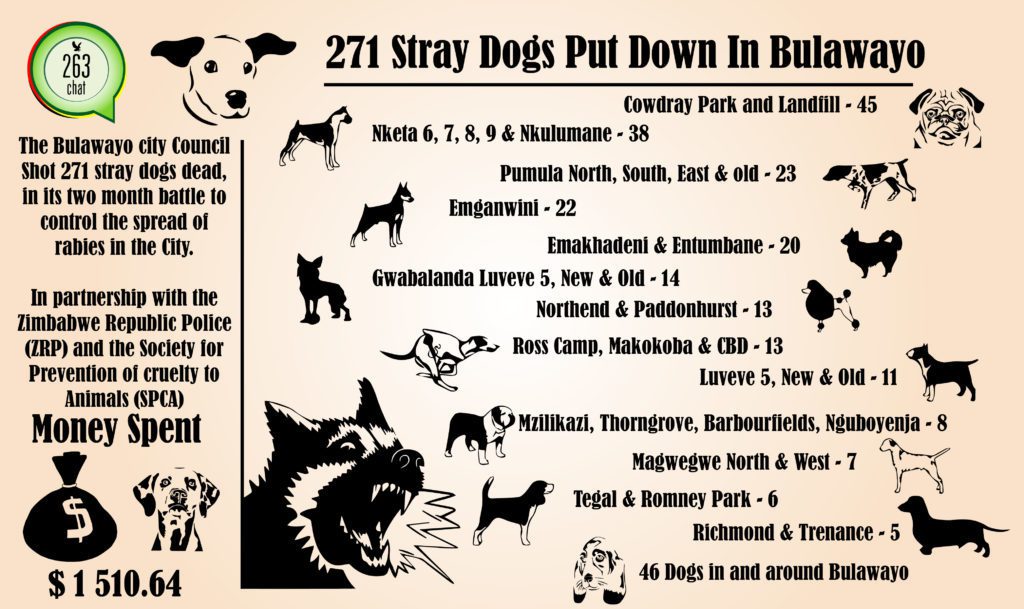 Most of the dogs were shot in Cowdray Park suburb, which accounted for 45 dogs. Most of the houses in sprawling suburb, one of the newest highest suburbs in the city, do not have perimeter fences and this could be the reason why it had the most casualties.
Emganwini suburb accounted for 22 dogs, while Nketa 7 and 9 had 18 dogs killed, the same number in Nketa 6, Nketa 8 and Nkulumane.
Northend and Paddonhurst, two of the city's older low density suburbs had 13 dogs killed.