Zimbabwean musician, Brian Nhira is in the country, from his United States of America base, to grace a career guidance seminar slated for this Friday at Muzinda Hub between 1630hours and 1930hours.
The program that is facilitated by Ignite Youth Organisation free of charge, will see Nhira meeting with the youths to share key aspects of career identification, pursuance and management before performing.
Speaking to 263Chat, leader of Ignite Creative – one of the six branches under Ignite Youth Organisation – Lennox Makurumidze highlighted that the event looks to unpack different avenues youths can follow to make money.
"Us bringing people like Brian Nhira to the event is us trying to show the youth that you can make money from your purpose and what you love to do. Being educated is not the only avenue to making money.
"Looking at Brian's journey, you would even realize that, what we studied in school is the direct opposite of how he is making money today," said Makurumidze.

The event will also be an opportunity for young creators to showcase their talents and abilities.
"We are also going to have local creators performing on the night. It will be an opportunity for them to break new grounds. Brian is quite a well-connected person, he has enjoyed some wide exposure hence a chance of him hooking up some of our local creators with bigger brands," said Ignite Creative vice leader, Joshua Taderera.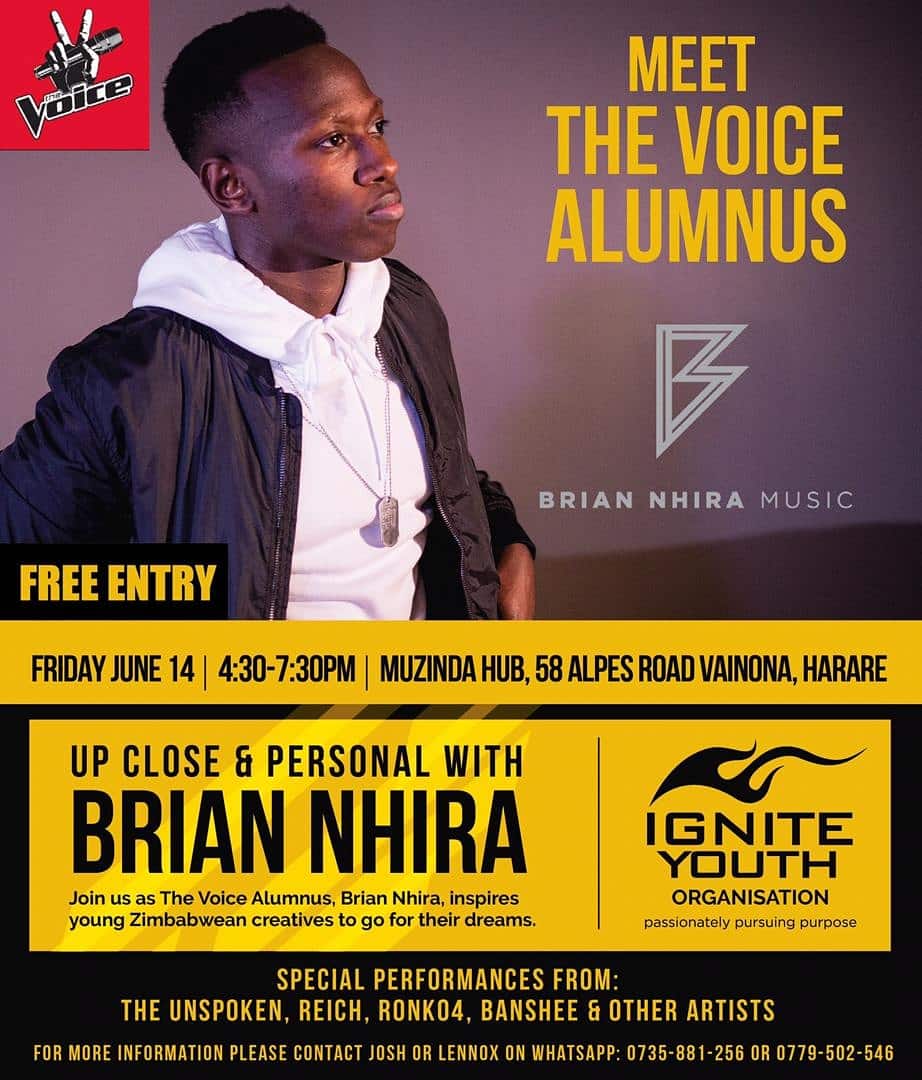 Ignite Youth Organisation was founded by Tadzie Madzima-Bosha with the aim of helping young people discover their purpose, pursue it, hone their skills within their area of purpose and use their purpose to ultimately impact other young people, their communities and their country positively, therefore equipping youth to be leaders.
Nhira rose to prominence in 2016 when he contested on The Voice USA 10th edition. His performance on the American prime-time show kick-started his music career.