As I make this post, just after 1545hrs local time, Robert Mugabe Way in Gweru resembles a war-zone.
About a dozen Municipal Police officers moving in an open jeep are attempting to arrest, or at least rid hundreds of street vendors off the pavements…a typical Mission Impossible.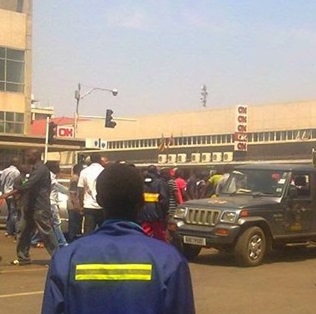 Unlike everyday when the vendors sprint away from the metro cops with their wares clutched in their hands, today is a different day. There are not running away. In fact, they are challenging the custodians of the law to arrest them if they can.
Even the Zimbabwe Republic Police (ZRP) is nowadays not part of this vendor-arresting team.
Farm produce has been turned into missiles, and the officers are doing their best ducking flying tomatoes, oranges, you name it.
I feel sorry for the cops. They are so outnumbered…and even if they were not, the vendors have First Lady Grace Mugabe on their side.
"Ndimi vana ani muri kutidzinga mumastreets mabasa kusina! Amai vakati titengese, saka sungaika tione!" (How dare you try to arrest us when the First Lady allowed us to conduct business from the pavements) They are all speaking with one voice…and they are really angry too!
Addressing supporters in the city last month, Amai Mugabe said it was hard enough for vendors to try and put food on the table for their families in a difficult economy, adding the police must stop making their plight worse.
"Women told me about their vendor marts, the challenges they are facing," she said.
"They are being chased away like people who are mentally challenged. The police should engage women and talk this thing out. Women are being troubled by your actions of chasing them away whenever they want to sell their goods."
She then attacked the police culture of demanding freebies, telling them that they draw salaries from the government and must pay their way like everybody else.
Vendors across the country regularly get raided by police for allegedly operating in non-designated areas and all manner of alleged offences. Their wares are seized during the raids and never returned.
"They say police officers don't want to pay for anything, they just organize a raid if they want tomatoes and onions," said the First Lady.
"That is what I heard. Stop doing that. This is not how it's done in business. We have never refused to sell to you. Pay for the goods because you are paid salaries."
She added: "Stop chasing away women. Just tell them to operate from market stalls if they are operating at undesignated points.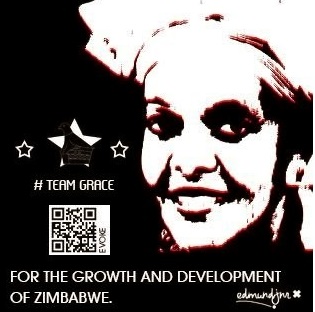 "It is not good to take people's goods when they are trying to fend for their families. It is not easy to bring food on the table for our families."
Early morning today, some women adorned in ZANU PF regalia that include the common Robert Mugabe portrait-emblazoned Zambia cloths and 'Mazoe Crush' t-shirts, moved around the central business district preaching some kind of gospel to the poor sellers. Whatever they were told must have made sense to them.
A few informal traders however sympathize with the hapless council employees: "They just need to pretend running away, and those council guys will go away, only to come back a few more times. They do not need to necessarily fight them, it is not their fault, and even their pay-days are not consistent. Grace akukonzeresa," remarks a newspaper vendor in annoyance.
The municipal cops cannot do anything but just film the proceedings, maybe to present the photos and videos to the big-bossmen – that the weather is hot in every sense – in the streets.
Posting from the Midlands capital, I am Nhasi…….muGweru
Source: Gweru Today
For similar articles, please check out: www.nhasimugweru.blogspot.com