THIRTY-EIGHT- YEAR- OLD ex-convict Boris Mambondiyani of Zengeza 4 in Chitungwiza tries in vain to hold back the tears flooding his eyes as he gazed at his mother's grave.
By Tafadzwa Tseisi
"My mother always told me Life is what you make it my son; what you think, you become…"
"I must admit, this remains the most powerful lesson my mother left me," said a visibly shaken Boris.
With his childhood characterised by family politics where his step father, a farmer in the Midlands Province, physically abused his mother habitually, Boris vowed to retaliate accordingly.
"My mother was so strong that she would force a smile to cover up for the domestic violence in taking place during that time.
"However, with the passage of time, her scars were so visible she couldn't fake her usual smile but breakdown and cry as she wanted to be  emancipated from the chains of fear, abuse and negligence by her husband," Boris said.
Consumed by anger, Boris devised a plan to steal his step father's cattle and sell them to a dealer he had met a few weeks earlier with the hope to make him enough money for him and his mother to escape to the city of Harare and start a new life.
However, his plan failed as someone had tipped local authorities leading to his 20 year sentence on cattle rustling, an offence regarded serious than rape in Zimbabwe.
It was in jail that Boris learnt how life can either transform one for the better or worse. After countless bible sessions with inmate and Pastor Gabriel Gumbukai, imprisoned for embezzling huge amounts of cash, a repentant Boris gave his life to Christ.
Fast-forward to his release, Boris narrates how he is not entirely free as he remains a prisoner to political and socio-economic struggles.
"Life after prison is not what I imagined. Things are difficult out here and sometimes I ponder on the thought of joining my brothers who, despite the poor diet are guaranteed of a plate of sadza and cabbage in prison," narrated Boris.
Boris joins millions of Zimbabweans battling with these political and socio-economic challenges which have seen many living below the poverty datum line.
This has derailed set goals towards development among them the Sustainable Development Goal one (SDG1) which focuses on the eradication of extreme poverty and hunger.
Unlike back in the day when one could be a temporary teacher with 5 O'Level qualifications, Boris's quest to find a job was long deflated resulting in him joining the bandwagon of many men, some of whom are degree and diploma holders but have flooded the informal sector.
Abject poverty is nothing new to Boris as he can go for more than four days every week without a bond coin in his pockets.
Moreso being accepted by potential employees has been a mammoth task for Boris as many judge him.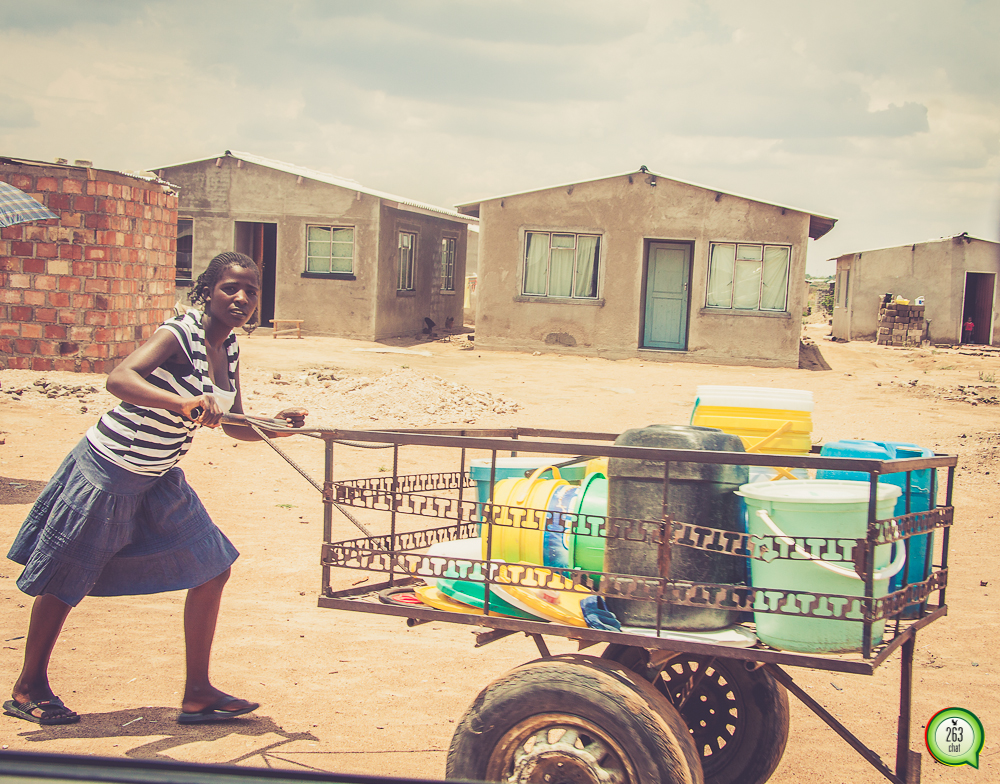 As one assesses the progress of SDG1 in Zimbabwe in line with one of its targets aimed at achieving full and productive employment in addition decent work for women and young people, clearly this has not been met.
According to a poverty assessment study survey (PASS II) by the United Nations in Zimbabwe, in 2011, 72.3% of all Zimbabweans were considered poor, whilst 62.6% of the households in Zimbabwe were also deemed poor.
Supporting this was the Finscope Consumer Survey report (2014) which indicates how at least 29% of the adult population had to skip a meal because of lack of money for food in 2011. In 2014, the percentage doubled to 44% to highlight how many remain unemployed and disempowered.
In addition, one of SDG1's targets aimed at reducing the proportion of people suffering from hunger consequently reducing by at least two-thirds between 2002-2015, the proportion of malnourished children under five.
Reality of the situation is Zimbabwe, once a bread basket in Southern Africa region, has been reduced to a mere net importer of food. Zimbabwe now regularly imports grain from regional countries such as South Africa, Malawi and Zambia, which recently announced it would export almost a third of its record 3.2 million-ton 2013/2014 crop to sell locally and to neighbors [Zimbabwe included]
According to findings by the Zimbabwe Vulnerability Assessment Report (ZIMVAC) in 2014, an estimated 1.3 million people were food insecure at the peak of food insecurity (February and March 2011).
The ZIMVAC report also indicate how the rural livelihoods assessment identified approximately 6% of the rural population which is equivalent to 565,000 people or about 21,000MT of maize as being in need of food assistance at the height of lean season between January and March 2015.
To date service delivery plays a pivotal role in the eradication of poverty as it deals with issues to do with water & sanitation consequently touching on health issues.
The reality of the situation on enhancement of access to and quality of social services has been compromised.
According to the Finscope report, the percentage of people who had gone without treatment in medicine because of lack money rose from 20% in 2011 to 37% in 2014.
This goes on to indicate how a lot still needs to be done in terms of coming up with a practical national development agenda that sustains the livelihoods of many. Such an agenda will therefore ensure that people's daily needs are catered for.
There is also a drastic need to support agricultural projects from grassroots level.
According to the ZIMVAC report only 22% of the rural wards have irrigation schemes and about 44% of these were fully functional in May 2014.
The report also point toward how government policies among them the ZIMASSET, Food and Nutrition Security Policy, clearly identifies irrigation development as one pillar in fostering long-term food and nutrition security in Zimbabwe.
However findings from a Brown Bag seminar hosted by The African Capacity Building Foundation, (ACBF) early this year highlighted how political will to implement policies at national level remains a major setback to achieving developmental goals among African nations.
"Political will to implement most of these policies is still lacking and this is a massive setback to achieving," said a United Nations representative.
Duly noted by the media has been the decline in formal employment, with many workers engaged in poorly remunerated informal jobs consequently  a direct bearing on both poverty and hunger.
In conclusion, more still needs to be done to fully eradicate poverty in Zimbabwe.