Thousands of Zanu PF supporters have convened at party Headquarters as they counter the famous #ThisFlag and #Tajamuka campaigns.
12:23. Nothing much  happening here at Zanu PF Headquarters.Zanu PF youths still coming in their numbers.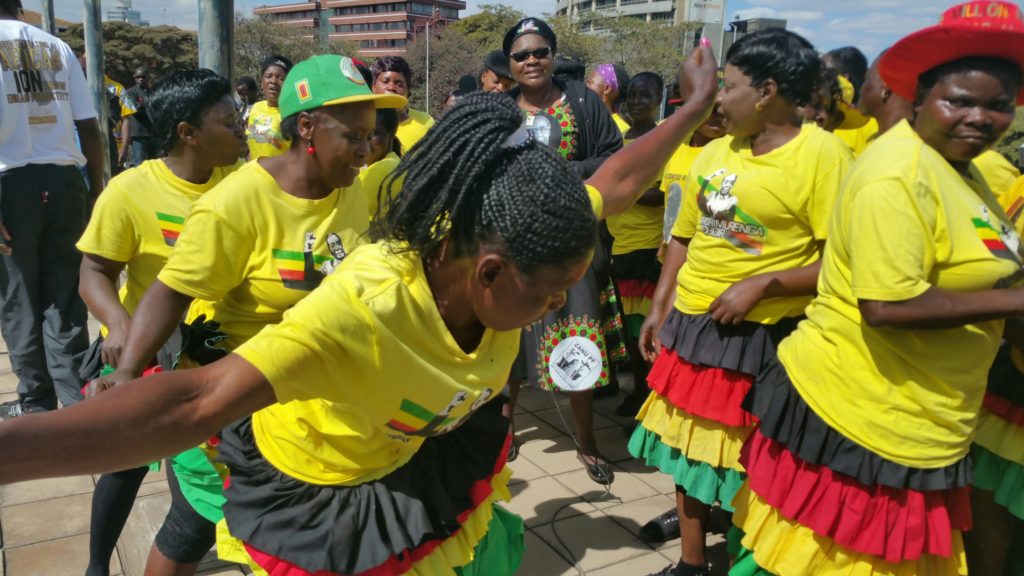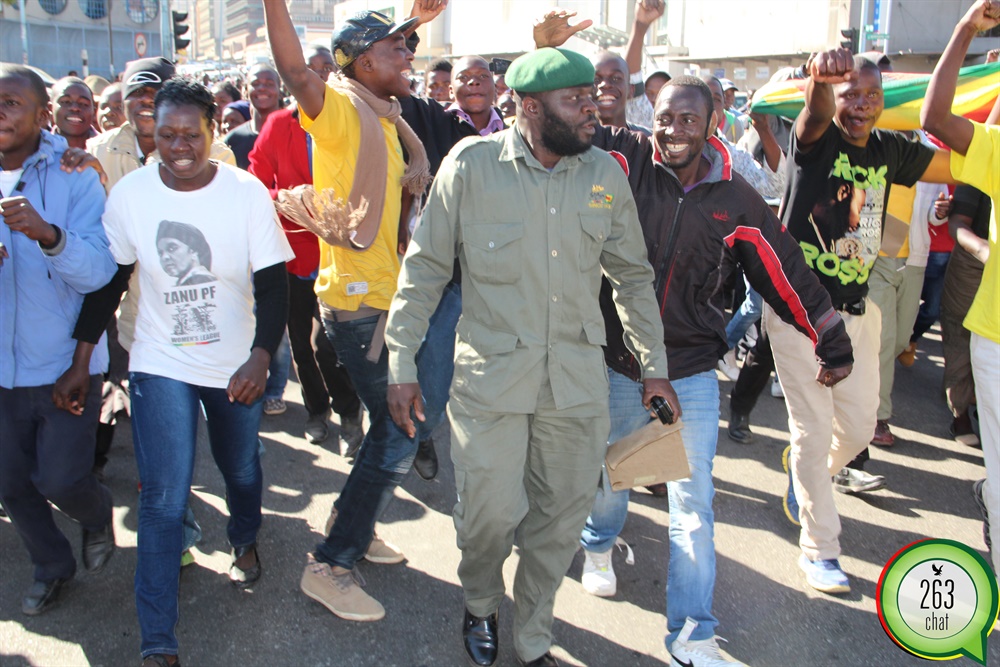 12:40. Zanu PF youth league Political Commissar, Innocent Hamandishe is now giving opening  remarks.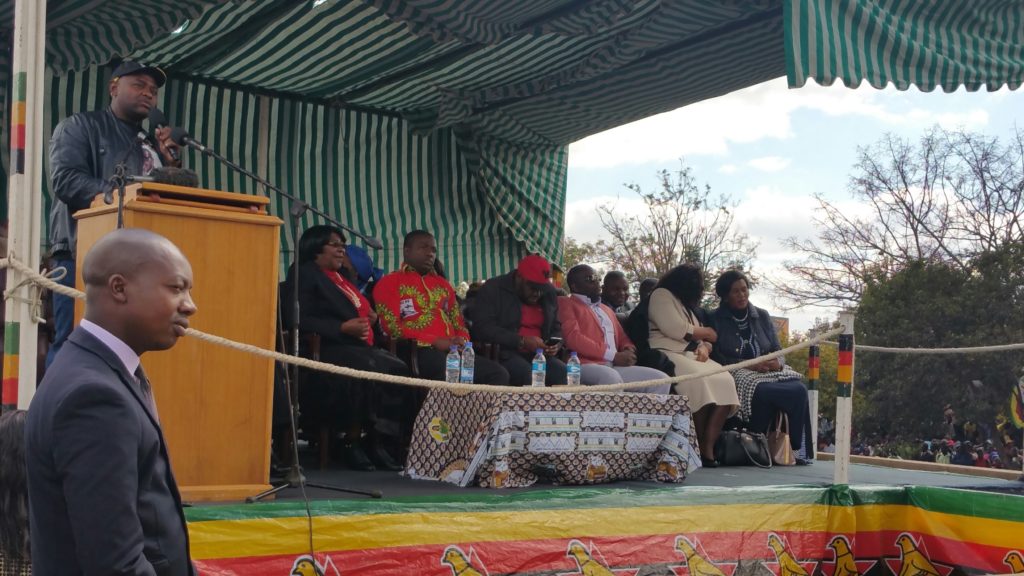 Zanu PF youth provincial chairpersons introducing themselves.Most of them denouncing Pastor Evan while at the same time praising Amai Mugabe.
12:51 Zanu PF legislator Terence Mukupe introducing himself.He says Pasi na Pastor Evan. "Pasi ne maPastor asingagoni kududzira bhaibheri," says Mukupe.
Seems as if Pastor Evan is now Zanu PF's headache as speaker after speaker is saying Pasi nevanoverenga Bhaibheri vakasunamisa.
13:05. "Pane vakuda kutyisidzira President wedu vana Tajamuka. Tiri kuti VaChihuri chimboendai parutivi tishande ne Tajamuka.Hakuna munhu anotyisa President Vedu," says Innocent Hamandishe.
13:07. "Tiri kukuonai VanaMawarire chingoitai opposition party  yenyu kwete kuda kuhwanda ne church," says Hamandishe.
13:17. Zanu PF deputy youth secretary, Kudzai Chipanga takes to the podium, chanting party slogans.
13:38. Chipanga says the meeting is meant to give feedback from delineations made at one million man march.
13:40. "Kuuya kwataita takapa zvichemo zvakawanda kuna President musi we one million man march.Zvichemo zvamakapa zvakagamuchirwa na President uye hurumende ye Zanu PF ichatanga kupindura zvichemo zvenyu zvishoma zvishoma," says Chipanga.
13:41. "Hakuna mu youth we Zanu PF achadzingirirwa achichera gold. Kana macherawo gold motengesa zviri pamutemo," says Chipanga.
13:44. Ma youth emu Harare makakumbira President kuti vakupei mapurazi ekuti mudimbururwe muite ma residential stands.President vari kuti chichemo ichocho vakachigashira.Hatisi kuti ma stands ndeema youth eZanu PF ndema youth ese.Vakatiza musangano dzokai muwane ma stands,"says Chipanga.
13:47. Chichemo chema residential stands chakatopindurwa. President vakatopa directive ku Ministry of local government kuti itsvage nzvimbo yema youth.KuBulawayo land yakatotanga kupiwa vanhu.Muno mu Harare President Mugabe vakupai land inokwana kuita 1000ha,"says Chipanga.
13:50. One of Zanu PF supporters reading a letter on the allocation of land. Part of the letter reads "Harare south 500ha Norton 200ha,".
13.54."Takakumbira land jekerere tinoda ipiwe Jekerere," says Chipanga.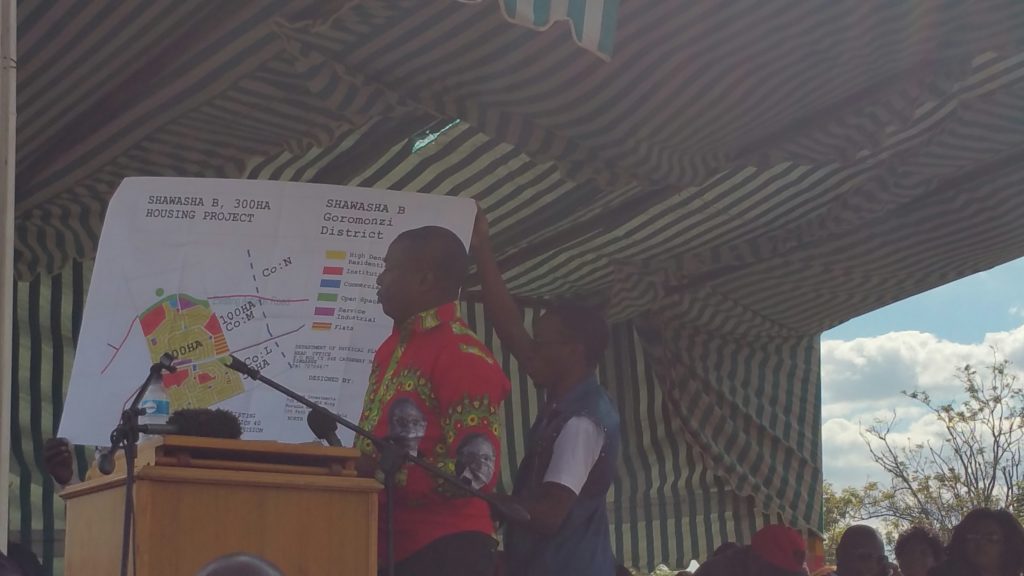 13:58. "Toda kuti patinonovhota tiende umwe neumwe akabata makey emba yake.Zanu PF iruling party haingaiti party yemaroja. Tiri kuti Ministry of Transport ngaichitanga dualisation ye Harare-Beitbridge ma youth eZanu PF achiwana basa," says Chipanga.
14:01. Toda kuti musi unoitwa Politburo toungana pano first week of August totenda mwana wa mbuya Bona nekutipa mastands,"says Chipanga.
Watch Video Below…
14:03. "Hatidi vanozowana ma stands matatu matatu. Ma stands haasi kuzowanika pa Headquarters ari kuwanikwa kuma cells,"says Chipanga.
14:05.Chipanga still adressing but Zanu PF supporters are seen vacating the place.
14:06.Chipanga lays into Pastor Evan says Hakuna pastor anofanirwa kutonga nyika.He says that Pastors should ordain leaders rather than criticising them.
14:09 Bulawayo Provincial Affairs Minister Sandi Moyo takes to the podium says Zanu PF is the mother body of Zimbabwean Politics.
14:11. "Nemiwo madzimai mapiwa enyu ma stands," says Moyo.
14:13. Moyo now quoting from the bible as she tries to denounce #Tajamuka and #ThisFlag campaigns. "Tajamuka ndeye vanhu vasingade nyika yavo," says Sandi Moyo.
14:15. "Zvema stay aways hatisi kuzvitevedzera isu.Muri kuona mhomho yese iri pano inoratidza kuti Zanu PF ine power," says Sandi Moyo.