80,000 more tourists a year could soon fly into Zimbabwe's leading resort town of Victoria Falls as two large international airlines commit to the destination and a third increases capacity, tourism industry leader Ross Kennedy says.
On March 1, South African Airways began operating an Airbus A330-200, daily to Victoria Falls from Johannesburg, the largest passenger aircraft ever to land at Zimbabwe's top resort town. The A330-200 has 222 seats, 88 more than the smaller aircraft it has replaced, and, according to the Civil Aviation Authority of Zimbabwe, inbound flights are, so far, heavily booked till March 12, and demand is growing daily.
In addition, Africa's largest airline, Ethiopian Airlines, will begin four flights weekly from Addis Ababa to Victoria Falls, using the latest Boeing 737, on March 26, and Kenya Airways will begin direct flights three times a week from Nairobi to Victoria Falls on May 18.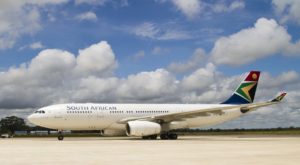 Mr Kennedy, Africa Albida Tourism (AAT) chief executive, said March 2017 heralded a new dawn for tourism, with the arrival of SAA's A330-200 in Victoria Falls, it was the beginning of an exciting and positive period for tourism in the region.
"These three airlines alone add 80,000 new seats per annum into Victoria Falls International Airport and the region, offering a huge opportunity for growth, as well as connecting new destinations with the incredible Victoria Falls hub and KAZA tourism region," Mr Kennedy said.
Victoria Falls is in the middle of southern Africa's Kavango Zambezi Transfrontier Conservation Area (KAZA), which boasts some of the most pristine and diverse wildlife areas left on the planet.
The Ethiopian Airlines flight route will be Addis Ababa – Victoria Falls – Gaborone – Addis Ababa, while Kenya Airways will fly Nairobi – Victoria Falls – Cape Town – Victoria Falls – Nairobi.
Mr Kennedy, who is also African Travel and Tourism Association chairman, said these routes would create new access to Africa's iconic tourist destinations, with visitors now easily able to visit the Maasai Mara, Serengeti, Victoria Falls and Cape Town in one trip.
"Tourists will also be able to take in the history, culture and birding of Ethiopia with one of the Seven Natural Wonders of the World, Victoria Falls, which is the gateway to the rest of Zimbabwe, as well as Zambia, Namibia and Botswana.

"These new route connections will give the opportunity to innovative members of the travel industry to create new packages and destination linkages for tourists," he said.
"It is a bright day for the tourism sector across the board in the region, and we applaud the airlines for having the faith and foresight to invest in the route and destination," he said.
In addition, newcomer low-cost carrier Rainbow Airlines launched its weekly Harare to Victoria Falls flight on January 25.
The new $150 million Victoria Falls International Airport, which includes a new 4km long, 60m wide runway, enabling long haul wide-bodied aircraft to land, was opened by President Robert Mugabe last November.
AAT is a Zimbabwe-owned hospitality group which operates a portfolio of properties in Victoria Falls, including Victoria Falls Safari Lodge, Victoria Falls Safari Club, Victoria Falls Safari Suites, Lokuthula Lodges, and Ngoma Safari Lodge in Chobe, Botswana.